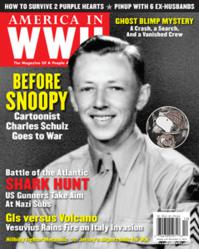 Schulz rode in a halftrack with 'Sparky'—his lifelong nickname—painted on the door.
Harrisburg, Pennsylvania (PRWEB) October 19, 2012
There was a reason why Snoopy often thought about World War II cartoonist Bill Mauldin on Veterans Day. Cartoonist Charles Schulz, creator of Snoopy, Charlie Brown, and the whole Peanuts gang—had read Mauldin's cartoons featuring WWII GIs Willie and Joe in an army newspaper while leading an armored machine-gun squad across Europe in 1945.
Schulz's service in the Second World War took the melancholy young would-be cartoonist from Minnesota on a journey through depression and loneliness to self-discovery, confidence, and a sense of accomplishment and capability. The story of Schulz's experiences as a WWII GI are featured in the cover story of AMERICA IN WWII magazine's December 2012 issue, "Charlie Brown's War," by Melissa Amateis Marsh. The issue was released this week on bookstore newsstands and on digital tablets and handhelds.
Arriving in battle-ravaged France in 1945, the last year of World War II in Europe, Schulz served in Company B of the 8th Armored Infantry Battalion, in the 20th Armored Division. Assigned to the Seventh Army, the 20th moved into Germany to help complete the defeat of Adolf Hitler's Third Reich. Schulz rode in a halftrack with "Sparky"—his lifelong nickname—painted on the door, as pictured in the America In WWII article.
There was little outright combat in Schulz's career as a WWII GI. But he did see the horrors of war, and he had some close calls and even some embarrassing moments (as when he accidentally nearly killed a fellow soldier with a German pistol he had claimed as a prize).
Schulz came home a different person. As author Marsh writes in the AMERICA IN WWII article, "The war had transformed Schulz." She goes on to quote Elmer Hagemyer, another WWII GI in Schulz's Company B, who befriended Schulz during training at Kentucky's Camp Campbell. Hagemyer said, "By the time he [Schulz] got out of the army he was a bigger, better, stronger person than when he went in." Marsh continues: "Schulz thought so, too. 'Those first few months I was home were probably the best months of feeling good about myself I've ever had in my whole life,' he recalled."
It was shortly after arriving home that Schulz dove with fresh vigor into his cartooning, for which he had been trained before the war. In 1947, he launched a strip titled Sparky's Li'l Folks. In 1950, it became nationally syndicated as Peanuts.
Many more stories of Schulz's experiences in World War II, and examples of the many tributes to his fellow veterans that he built into Peanuts over the years, are included in Marsh's article.
America In WWII's December 2012 issue is available at Barnes & Noble and Books A Million stores, and at select other bookstores. Readers can find digital editions of the issue by searching for "america in wwii" on iTunes, the Nook Newsstand, Google Play, or the Amazon Appstore, or, for the desktop version, coverstand.com, or by visiting http://www.AmericaInWWII.com/subscriptions/, where print subscriptions can also be purchased. A side-loadable app for Kindle Fire users is available there.
America In WWII and AmericaInWWII.com are publications of 310 Publishing LLC of Harrisburg, Pennsylvania, a company committed to telling the stories of history in human terms.