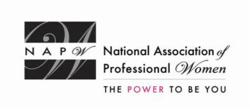 Kerry talked to the group about the mission of Dress for Success and some of the many services they offer to the economically challenged women they serve
Garden City, NY (PRWEB) July 13, 2012
Members and guests of the NAPW Charlotte Local Chapter gathered together on June 21 for their monthly professional networking meeting at Dress for Success Charlotte, 500 Clanton Road, Charlotte, NC. The Chapter is committed to following through on its vision of philanthropy and connected with the national organization that helps disadvantaged women successfully thrive in the business world.
The focus of Dress for Success, a national nonprofit organization, is to promote the economic independence of disadvantaged women by providing professional attire, a network of support, and career development tools to help women thrive in work and in life. For some time, the NAPW Charlotte Local Chapter has wanted to focus on more philanthropic efforts and Dress for Success is indeed the perfect fit for this group of successful, committed, and resourceful professional women.
According to Charlotte Chapter President Christine M. Strickland, the Chapter was able to hold its June meeting at the Dress for Success Charlotte headquarters, which allowed members and guests to learn more about the organization they were helping. The guest speaker was Kerry Barr-O'Connor, Executive Director for Dress for Success Charlotte. Ms. Barr-O'Connor gave an impassioned speech about the organization's efforts to assist disadvantaged women. Afterward, members were invited to take a tour of the facilities to see for themselves where their donations were going.
"Kerry talked to the group about the mission of Dress for Success and some of the many services they offer to the economically challenged women they serve. We also had a chance to tour the boutique, career center, and other facilities. Members and guests all brought items to donate to Dress for Success," said Ms. Strickland.
As at all monthly meetings, members were able to spend time networking and sharing news about their professional lives and as always, new friendships were established, old friends caught up, and all members were able to connect with other members who may be of help with present and future endeavors.
Previous meetings held in April and May were also well attended and highly successful. In April, the members met outdoors at Latta Park and enjoyed an evening together where they shared information about the work they do and the charitable causes with which they are involved. Member Marya Butler inspired other members with her description of the work she does providing services to the homeless and victims of domestic violence in her community.
The Chapter met for a networking event in May at the Wine Vault 9009-l J.M. Keynes Drive Charlotte and for brunch on May 20th at Pewter Rose. Future meetings are scheduled for July 19, August 16, September 20, and October 18. Check out the Charlotte Chapter page on the NAPW website or its Facebook page for meeting details.
Members in attendance at one or all of the previous meetings included Christine Strickland, Gretchen Dannaceau, Tiffany Rose, Marya Butler, Janelle, Purity Stockton, Maia Smith, Dicy McCullough, Regina Butler, Kandi Keller, Joyce Caron Mercier, and Charlene Hoffman.
The National Association of Professional Women (NAPW) is the largest and most recognized network of female professionals. NAPW provides a forum where women can interact, exchange ideas, educate, network, and empower. NAPW Local Chapters allow members to maximize their experience through meetings, networking opportunities, and professional events.
For additional information regarding the NAPW Charlotte Local Chapter and/or NAPW, please visit http://www.napw.com.
Follow NAPW on Facebook and Twitter.
###