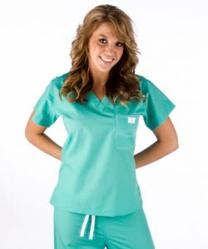 Great quality at low prices. CheapScrubs.org
Tampa, FL (PRWEB) October 23, 2012
A new announcement from CheapScrubs.org. It is now providing medical staff with the high quality scrubs that they need for a fraction of the price. Now featuring a sale from the well-known vendor Scrubs and Beyond, CheapScrubs.org is offering a cheap and affordable deal for scrubs to the public. Visitors to the site can click through to a direct link which will lead them to the sale page on the Scrubs and Beyond website. With prices as low as $8.99 per scrub set, the site anticipates that this announcement will greatly benefit CheapScrubs.org subscribers within the medical industry.
Professionals within the medical industry rely on scrubs on a daily basis as an element of their career. These standard uniforms have become a regulation within the industry, known for protecting traditional clothes from stains and ensuring that staff members are completely sterilized before performing any type of medical exam or procedure. Originally only available in solid colors in prior decades, scrubs are now available in a variety of different designs and styles so that medical staff can enjoy having more of a selection to choose from.
Since scrubs have become so popular and remain to be a standard within the medical industry, the prices associated with various styles can vary. A set of highly detailed scrubs featuring a pattern and quality material can cost well within the range of $70 in a typical setting, making the Scrubs and Beyond sale a true value for any medical professional who is seeking to stock up for future use.
Scrubs and Beyond has become a well-known vendor for scrubs in the medical community, providing medical professionals with access to a vast selection of different brands, as well as many of the items and accessories used within healthcare settings on a daily basis.
For more information about this sale and future deals on cheap scrubs, visit http://www.cheapscrubs.org for more information.