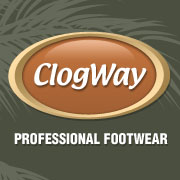 Until you've worn them, you truly can't know what you're missing.
Palm Desert, CA (PRWEB) March 29, 2012
Healthcare and hospitality professionals who stand on their feet all day now have a source of comfort and ease. ClogWay.com, a new online retailer, was launched by a former nurse and a hospitality veteran who know firsthand the importance of comfort footwear. The site features internationally known and respected brands including Sanita® Work Wear, Birki's®, Klogs USA® and Alpro® by Birkenstock in a wide variety of men's and women's styles and sizes, all at the lowest possible prices. Additional specials are offered through the website's e-sign up list and through Facebook.
"We are very excited to announce the launch of ClogWay.com," said Kimberlie Traylor, principal. "Our goal is to help working professionals in one very important area of their lives--their feet! I know from experience how exhausting it can be to stand during 12-hour shifts. Having the proper shoes makes all the difference. The brands we sell offer stability, comfort, strength and slip resistance. All are key to helping busy professionals function at their best."
In addition to her healthcare experience, Traylor has 10 years of experience selling footwear online through discount channels. At one point, she set the benchmark for speed of fulfillment on bulk orders. She also has extensive experience working with hospitals and hoteliers. "We know what these clients need and want," she emphasized. "So we've taken all of our prior experience and knowledge to create a business that meets their needs and offers very personal service. We offer fast order fulfillment, free shipping on orders over $100, no hassle returns and a money back guarantee. We also offer very flexible terms to group purchasing organizations (GPOs) for hospitals, hotels and restaurants. GPO members can benefit from discounts of up to 20%."
Clogs have been a stylish and popular comfort shoe since the first Danish shoes were made by hand more than 100 years ago. That tradition lives on through today's innovative materials, styles and colors. "There's a very good reason these shoes are more popular today than ever, and why they're the top choice for workers in medical offices and facilities, hotels, restaurants, etc.," Traylor noted. "Until you've worn them, you truly can't know what you're missing."
ClogWay.com is an authorized seller of Sanita®, Birki's®, Klogs USA® and Alpro®. For more information or to place an order, visit ClogWay.com. To learn more about GPO opportunities, please call Aaron Traylor, (623) 523-1732.