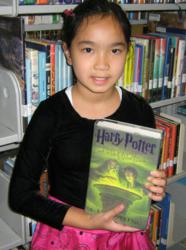 Cristy Huynh, grand prize winner, read over 10,000 minutes during the summer. Her family stated, "it is encouraging Cristy to read more and more books ... Cristy is so happy!"
Charlotte, NC (PRWEB) September 10, 2012
After winning a Top Innovator award earlier this year for its strategic approach to programming, the Charlotte Mecklenburg Library brought that innovative approach to improving literacy among children and teens by moving its Summer Reading program online, enabling improved marketing efforts and the ability to track outcomes. End of summer results showed a total of 22,167 individuals registered, a 26 percent increase from the previous year, which translates into 13.8 million minutes read.
Research shows that reading and literacy in children and teens is a strong predictor of educational achievement and career success. The Library's Summer Reading Program helped improve educational achievement by encouraging reading during the summer months, when academic gains made during each school year can erode significantly if children do not read.
School-age children, teens and adults who read, did so for an average of 20 minutes per day, meeting program goals and research-based best practices for academic success.
"We always knew we made a difference by encouraging reading over the summer, but once we moved the program online, we now have the data to confirm it," said Lois Kilkka, Deputy Director of Library Experiences, who coordinated the effort this year. "Moving the process online also helped us to obtain the results so that we were able to share the report with our partner, Charlotte-Mecklenburg Schools, thus strengthening the relationship between libraries and education."
Reading is becoming an even more essential skill for all students, as North Carolina and other states move toward Common Core Standards in which literacy is embedded in all parts of the curriculum. The more children read, the better their fluency, vocabulary and comprehension. The Library partnership with Charlotte-Mecklenburg Schools helps to build readers who will be prepared to succeed in school, the workplace, and in life.
One of the incentives for completing the school-age Summer Reading program was entry in a drawing to win an iPad 2 or PC tablets. Cristy Huynh won the iPad, reading over 10,000 minutes during the summer. She and her aunts have been coming to the Plaza Midwood Branch for the past three years. Said Christy's family, "We really appreciate very much that the library gave Cristy the opportunity to have Summer Reading because it is encouraging her to read more and more books... Cristy is so happy!"
The new online system enabled several enhancements to marketing efforts including an earlier promotional start-time and the ability to communicate directly with participants via email.
The 2012 Summer Reading program officially ended Aug. 10, 2012. Learn more about the success of 2012 Summer Reading. Companies interested in becoming a sponsor for the 2013 Summer Reading program can contact the Library's Resource Development office at 704-416-0618.
For more information about the Charlotte Mecklenburg Library, visit our website at http://www.cmlibrary.org. Also look for the Charlotte Mecklenburg Library on Facebook, Twitter, Flickr and YouTube.
###
Media Contact: Cordelia Anderson,
Marketing & Communications Director
Charlotte Mecklenburg Library
Office Phone: (704) 416-0712
Business Cell: (704) 999-0511
Email: canderson(at)cmlibrary(dot)org