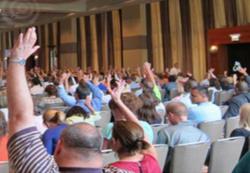 During the 2014-2015 school year, students must take new assessments.
Oakbrook Terrace, IL (PRWEB) November 08, 2012
The Common Core Institute has announced a number of speakers for next January's conference on Common Core State Standards and Diverse Learners. The roster of speakers brings decades of experience to this exclusive event. The national conference attracts educators from across the U.S. and more than a dozen countries. This year's confirmed speakers cover hard-hitting issues including adolescent literacy, common core leadership, PARCC and Smarter Balanced assessments, and much more.
Administrators, faculty, and teachers, will expand their knowledge from leading Common Core experts and engage in a collaborative environment. A hands-on approach provides usable techniques and resources for meeting the demands of College & Career Readiness standards and diverse learners.
The Common Core Institute is pleased to announce that Dr. Carol Johnson, Sue Gendron from SMARTERBalanced, Dr. Anna Lisa Banegas-Peña, Dr. Patricia Jimenez-Latham, Penny Reinart, Dr. Rober E. Probst, and Dr. Kylene Beers, author of the best-selling book, When Kids Can't Read/What Teachers Can Do, have been confirmed as speakers for the event.
Kevin E. Baird, Chairman at the Institute, comments on the critical issue of how schools approach the standards. Baird states, "If we view the standards as just a new checklist of things to teach, we will fail. To meet College & Career Readiness requirements, we need to get fifth graders reading at today's eighth grade level. The NAEP results indicate more writing is critical. The new assessments require thinking – not just 'knowing.' Accelerating two to three grade levels is more than a challenge – but it is possible."
Details for the National Conference on Common Core Standards and Diverse Learners
Date: January 31 – February 1, 2013
Location: Sheraton Albuquerque Uptown Hotel in Albuquerque, NM
Register at: http://commoncoreinstitute.org/abq.aspx
Contact: 888-627-7127
Additional speakers may be added in the coming weeks. Be sure to register soon while seats are still available. In addition to the Albuquerque event, the Common Core Institute will be holding additional College & Career Readiness programs in Orlando the second week of February and again on June 27 - 29, 2013. Check our website for the latest updates.
About The Common Core Institute
The Common Core Institute is a leading research, training and consulting organization working to help schools, districts and states implement the new Common Core Standards. Co-authors of the National Pathway for Common Core Standards implementation, the Institute's Senior Faculty work directly with the authors of the new standards as well as with Assessment Consortia and publishers. The Institute is dedicated to practical classroom practices which allow teachers to implement the standards effectively.
Center for College & Career Readiness
The Common Core Institute and its partner, the non-profit Center for College & Career Readiness, provide no and low-cost educational sessions for community leaders, journalists, foundations and parent groups.