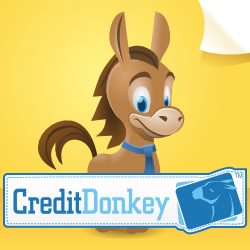 Los Angeles, CA (PRWEB) August 14, 2012
Forget the chicken versus the egg—the new quandary that everyone's asking is savings versus debt. Should I focus on my retirement or reduce my credit card debts? And as many consumers know, the answer to that question can be much more complicated than one would initially believe, according to a new CreditDonkey.com infographic.
Infographic: http://www.creditdonkey.com/compound-interest.html
Thankfully, when armed with information and illustrations, determining how to divide your focus is much simpler, and that was the motivation behind the latest infographic published by CreditDonkey.com. Titled "Should I Start Saving Now or Pay Down My Credit Cards? CreditDonkey Guide to Compound Interest", the powerful infographic digs into all of the relevant compound interest details, outlining the benefits of saving and paying down debt as well as offering solutions for a variety of scenarios.
"We've found that while many consumers have been taught the value of saving for retirement and paying off their debt, they often are uncertain regarding the prioritization of the two goals," said Charles Tran, founder of CreditDonkey.com, a credit card comparison and financial education website. "So we set out to explore the real cost of splitting your attention between savings and credit card debt. I think many of our followers will be surprised by the resulting figures."
Previously, many consumers have only viewed compound interest as it relates to savings, so the infographic starts with a powerful illustration of compound interest's split personality, characterized by an angel and a devil. The angel, APY, allows consumers to more rapidly grow their savings by applying interest not only to their account balance but also to the interest they had previously earned. The devil, APR, allows credit card interest to grow more rapidly by applying interest charges not only to the principal balance but also the unpaid interest from the previous billing cycles.
The infographic also lays out the following details, so consumers have the knowledge they need to create a savings and debt payoff plan that works best with their situation. The information includes:

Impact of compound interest frequency
Tips on building a rainy day fund while paying off credit card debt
American savings statistics, so consumers know how they stack up
Detailed savings to credit card payment scenario, showing the impact of credit card payments versus savings
Detailed savings vehicle scenario, showing the impact of saving in a traditional account versus investments
Visit CreditDonkey.com to view the full infographic on compound interest as it relates to savings and credit card debt.
CreditDonkey.com publishes credit card reviews, deals and tips to help Americans make informed credit decisions. Budget-conscious consumers can visit CreditDonkey.com to find the best credit card that meets their financial needs.