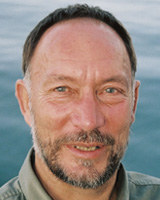 "The key to clear meditation is absolute effortlessness."
Petaluma, CA (PRWEB) February 27, 2012
People who feel stuck in life or too busy and anxious to experience a meaningful purpose often seek solutions in questions of consciousness: How to release the mind from fear, judgment and attachment to become present and alive? What is the true self? How does science support the spiritual journey?
Answers to these and many other questions that arise from journeys to the heart and spiritual awakenings will be explored at a weekend retreat at EarthRise Retreat Center at the Institute of Noetic Sciences, March 30 to April 1, 2012. In his workshop, Exploring the Mystery of Consciousness, Peter Russell will lead participants through talks, group discussion, self-inquiry and guided meditation to begin their inner exploration.
Recognized as one of the leading thinkers on consciousness and contemporary spirituality, Peter will share his latest thinking, supported by contemporary physics and psychology, on why consciousness is a fundamental quality of the cosmos. A key feature of Russell's approach is how participants learn meditation as the simple surrender of all effort and resistance rather than changing or eliminating parts of the self.
"The key to clear meditation is absolute effortlessness," Russell explained. "We simply need to let go of the various thoughts that keep our minds busy and tense, simply surrendering to the fullness of the present moment. When we do, we discover for ourselves the essence of our own consciousness."
Early bird registration for the workshop is $295 available through March 5, 2012. Thereafter, the regular fee is $325. Fees include the program and 6 freshly prepared meals. Onsite lodging is $75 per person per night for a shared room or $99 per night for a single room. For more information and to register, visit the EarthRise registration page or call Jan Fischer at 707-779-8202
Twelve continuing education credits are available for marriage and family therapists, licensed clinical social workers and nurses for a processing fee of $25.
Peter Russell is recognized as one of the leading thinkers on consciousness and contemporary spirituality. He is the author of ten books including "The Global Brain," "Waking Up in Time," and "From Science to God." His work integrates Eastern and Western understandings of the mind, exploring their relevance to the world today and to humanity's future. http://www.peterrussell.com
About EarthRise
Located just 35 minutes north of San Francisco, EarthRise Retreat Center is a full service conference facility that caters to transformation learning experiences. Nestled among 194 acres of rolling hills and ancient oak trees, the center provides an environment to explore consciousness, ancient wisdom traditions, experiential learning and modern scientific inquiry. At EarthRise at IONS, psychologists, educators, philosophers, frontier scientists and spiritual masters lead transformational learning and lifestyle programs. For more information, visit the EarthRise website or contact Jan Fischer at (707) 779-8202 or workshops(at)noetic(dot)org.
# # #