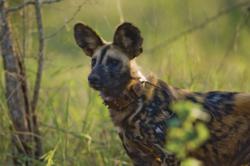 "This device is going to be a key tool in helping the endangered African Painted Dog population grow rather than decline". Wildlife ACT spokesman, Johan Maree.
Cape Town, South Africa (PRWEB) October 04, 2012
A new anti-snare collar designed by conservation volunteer organisation Wildlife ACT, saved three endangered African Painted dogs who were trapped in snares recently. The collar, which doubles as a tracking device, is being hailed as a key means of ensuring that the African Painted dogs do not become extinct in Africa.
The African Painted Dog (also known as the African Wild Dog, or African Wolf) is an endangered species, near the bottom of the predator chain. Despite little evidence that the dogs prey on livestock, many farmers actively seek out and destroy whole packs of Painted Dogs which enter onto their properties.
One of the biggest challenges the Painted Dogs face every day though is the presence of wire snares. These snares are set out by poachers who are targeting antelope species for meat. Poachers are community members who live on the outskirts of the reserve and are probably unemployed. They look to the reserve as a source of food and income, coming into the reserve to poach meat to eat and sell.
Unfortunately the wire nooses they set out are undiscriminating and often other species, like African Painted Dogs, get caught in them. The snares are set up in strategic places, for instance along animal paths and near water holes. Often more than one snare is setup, so that the poachers can try and optimise their chances of capturing something.
The problem with this is that a Painted Dog pack which fans out and runs while hunting is more prone to be caught up in a snare, as they are moving at a speed which does not allow them to take note of the snare lines. This is made worse by the strong social bonds of Painted Dogs. When one animal is caught the rest of the group stays in the area, distressed at the plight of a pack member, and are inevitably caught in a snare themselves.
The main feature on the collars, other than a tracking device which allows Wildlife ACT volunteers to track these rare animals on a daily basis, are two metal plates on the side of the collar with raised edges which catch the wire snare as it comes over the neck of the dog.
The metal plate allows the dog to pull against the snare and break it, rather than it cutting into their skin. Wildlife ACT's intensive monitoring programs, helps them to identify those animals with snare injuries, following which they are able to catch and treat the wounds and release the animal directly back into the wild.
Over the last few months, Wildlife ACT staff and Wildlife ACT conservation volunteers have fitted a number of African Painted Dogs with our anti-snare collars. All three of the Painted Dogs recently caught in snares wearing these collars survived. The early success of these new collars gives new hope for this species which is hard-hit by wire snaring.
Wildlife ACT spokesman, Johan Maree, said "it is amazing how resilient and quickly they are able to respond to treatment. We currently have two females in one pack on only three legs due to snare injuries. The operations to remove their legs were done on the back of a bakkie in the field, with the dogs released back with their pack within 24 hours!"
"With scores of Painted Dogs lost every year to suffocation from snares this device will be a great help in trying to get our populations of Painted Dogs growing instead of being 'constricted', Johan said.
You can make a difference by becoming a conservation volunteer with the Wildlife ACT team in the African bush, tracking endangered species on a daily basis. Or you can make a donation to the Widllife ACT Fund to purchase and fit as many Painted Dogs with Anti Snare collars as possible.
Contact Wildlife ACT via their website at http://www.wildlifeact.com.
To donate towards the purchase of a new anti-snare collar, visit the Wildlife ACT Fund donation page here http://www.wildlifeact.com/volunteer/wildlife-act-fund-1