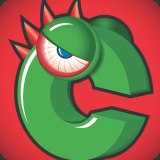 Dallas, Texas (PRWEB) December 19, 2012
Consonant Pain, now available in the App Store, is a simple, original and exciting new game that brings together the mind-bending challenge of a word game with a nail-biting race against time, complete with a cast of whimsical animated characters.
The rules are simple: You have one minute to form as many words as you can using at least two of three randomly selected consonant letters. You'll receive bonus points for using all three consonants, and one bonus point for each additional consonant you use.
However, the task won't be easy. You'll have to think (and type) quickly in order to beat the clock – and your friends' high scores. You'll also have to deal with the outrageous antics of the "consonant pains," who will taunt you mercilessly every step of the way.
Consonant Pain is free to download from the iOS App Store, with an optional 99-cent in-app purchase available to remove in-game advertising.
Launch collaborated with Phaeroh Ventures and Brainwash Inc. on the Consonant Pain project. Beau McVay, founder of Phaeroh Ventures, originally designed Consonant Pain as a physical, dice-based game and developed a beta version of the iOS app. Launch has since reimagined, enhanced and relaunched the game for the App Store. Brainwash handled development across multiple platforms. Visit consonantpain.com for more information and a demo video.
About Launch Agency: Launch is a Dallas-based, full-service advertising agency nationally recognized for award-winning creative work, and for competitively positioning and marketing both fast-growth and mature companies. Its digital group creates mobile apps and games, specializing in animation, graphic design, music/sound design, writing and concept development.
About Brainwash Inc.: Brainwash Inc. specializes in iOS (iPhone/iPad) and Android development, including server-side functionality for database, location-based, communication and more. Brainwash Inc. has worked on over 70 apps currently available on mobile platforms, contributing to some of the most popular applications and providing end-to-end app development for everyone from Fortune 500 companies to individuals.