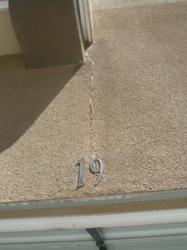 La Mesa, California (PRWEB) February 16, 2013
Clayton M. Anderson and Associates (formerly known as Anderson & Kriger) has filed a complaint against Pulte Homes Corporation for a series of defects found in an 87-unit condominium complex in Santee, California. The complaint (case number 37-2012-00095271-CU-CD-CTL) was filed in the Superior Court of California, County of San Diego. The homeowners claim Pulte, a Michigan-based manufacturer of mass-produced homes, is responsible for more than $1.5 million in damages resulting from various defects found in the 16-building development.
According to the complaint, residents who had moved into the units of the condominium complex immediately found that they could not enter or exit their garage driveways without severely scraping bumpers and the underside of their vehicles against the concrete curbs. The alleged combination of improperly designed streets, drainage ways and rolled curbs created a driveway that was nearly impassable. The damage to the homeowners' vehicles was enough to prompt them to contact Pulte for repairs. Pulte attempted to fix the curbs but their repair attempts were insufficient. Construction experts retained by Clayton M. Anderson and Associates have concluded that the garage driveways were improperly designed by Pulte and need to be replaced.
The complaint also describes long stucco cracks that have started appearing above several of the units' garage headers. Investigations on the property so far have revealed undersized concrete footings under the buildings and in some instances large voids beneath the foundations. Preliminary expert investigations point to the undersized foundations and the void condition, likely caused by poorly compacted soils underneath the foundations, as contributing causes to the stucco distress above numerous garage door headers.
In addition, initial investigations suggest evidence of water intrusion throughout the perimeter retaining planter walls, as stated in the complaint. A combination of poorly compacted soils and failed waterproofing left water sitting against the walls, which eventually evaporated to form a common white chalky substance known as efflorescence; this is the likely cause for the early deterioration of these planter walls.
Failed SB800 Repair Attempts by Pulte Homes
On behalf of the homeowners, Clayton M. Anderson and Associates served Pulte a Notice of Construction Defect Claim in 2011, more commonly known as SB800, the California "Right to Repair" bill. Under this California law, homeowners must give developers the opportunity to make repairs to the alleged construction defects, before filing a lawsuit.
According to the complaint, Pulte agreed under SB800 to make repairs to select defects in early 2012. However, Pulte denied any alleged design defects as to the garage driveway curbs and refused to perform any repairs under SB800 as to this issue.
Similarly, Pulte allegedly applied only superficial repairs to the stucco cracks above the garage headers, as stated in the complaint. According to Pulte, most of those stucco cracks did not violate SB800. The developer performed cosmetic corrections to only three of the many cracks in the development. Of those three, one crack has already re-opened, further evidence that the likely underlying cause for these stucco cracks are the defective concrete footings and the poorly compacted soils underneath.
The complaint also notes that repairs to the retaining planter walls in which the developer took several inches of top soil were also allegedly inadequate, as the repairs did not address the underlying issues of poorly compacted soils and failing waterproofing.
After a year of failed repairs and several unsuccessful mediations, the SB800 process has concluded. Due to continued homeowner concerns, Clayton M. Anderson and Associates is now proceeding on with litigation.
About Us
Recognizing California's need for quality construction defect legal services, Clayton M. Anderson & Associates (fka Anderson & Kriger) has an experienced team of attorneys and paralegals who are uniquely qualified to answer your questions. We will gladly meet with you for a no-cost consultation to discuss concerns about your home.
Construction defect cases are handled on a contingency fee basis and no up-front costs are required. All fees and costs are paid from the settlement or recovery.
If you have concerns about your home or other property, give us a call today and speak to a Construction Defect attorney.