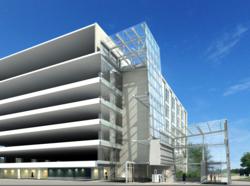 "One of the most interesting aspects of the building was the insertion of the atrium space, creating a lightwell which is a component integral in achieving LEED® Gold Certification." - Paul Killmer, Director of Public Programs at the NBM
Washington, DC (PRWEB) October 16, 2012
Turner Construction Company was honored to partner with the National Building Museum to host the September Construction Watch Tour of Federal Office Building 8. The tour, led by Project Manager Thomas Sawyer, consisted of 20 individuals interested in green building strategies, special construction methods and innovative technologies used in the construction process.
Director of Public Programs at the National Building Museum, Paul Killmer said, "One of the most interesting aspects of the building was the insertion of the atrium space, creating a lightwell which is a component integral in achieving LEED® Gold Certification." The group also marveled at the enlargement and treatment of the windows, the beautiful floating staircase, and the green roof which protects the building and surrounding area from storm and water damage.
Last September, Turner Construction Company was named the number one green builder in the country by Engineering News-Record for the fifth year in a row. With the largest LEED-accredited staff in the United States, Turner's commitment to sustainability goes beyond job sites and certifications and translates to operations and community outreach. The company was recognized in twenty-three categories by the publication and also ranked number one in general construction, education, healthcare, correctional facilities and pharmaceutical. and commercial facilities by the publication.
About Turner Construction Company
Turner is a North America-based, international construction services company. Founded in 1902 in New York City, Turner has 5,200 employees worldwide and works on 1200 projects each year, for an annual construction volume of $8 billion. As the largest general builder in the United States, Turner ranks first or second in the major market segments of the building construction field, including healthcare, education, sports, commercial, and green building. The firm is a subsidiary of HOCHTIEF, a publicly traded company, and one of the world's leading international construction service providers.
For more information please visit http://www.turnerconstruction.com.
About HOCHTIEF
HOCHTIEF is one of the leading international providers of construction-related services. With more than 80,000 employees and a sales volume of EUR 23.28 billion in FY 2011, the company is represented in all the world's major markets. With its core competencies in development, building and operation, the Group delivers services for the entire life cycle of infrastructure projects, real estate and facilities. The focus of the related business activities is on four strategic areas: energy infrastructure, transportation infrastructure, major cities, and resources. With its subsidiary Leighton (HOCHTIEF share around 54 percent), the Group is market leader in Australia. In the USA, the biggest construction market in the world, HOCHTIEF is the No. 1 general builder via its subsidiary Turner and, with Group company Flatiron, ranks among the most important players in the field of transportation infrastructure construction. Because of its engagement for sustainability, HOCHTIEF has been listed in the Dow Jones Sustainability Indexes since 2006. Further information is available at http://www.hochtief.com/press.