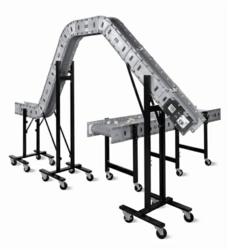 The conveyor system was very easy to configure and fit into the space.
Muskegon, Michigan (PRWEB) May 03, 2012
Today, many companies are bringing their blow molding operations in house to reduce costs and as an eco-friendly solution to transporting empty bottles. When MaJe Inc. worked with POM Wonderful to bring its bottle production in house, the company looked for custom conveyor systems that provided many options, were sustainable, and could be delivered and installed within a tight deadline. They found that Dynamic Conveyor Corp. produced such a system.
POM Wonderful grows and markets pomegranates and pomegranate-based products and is committed to wellness, including the well-being of the planet and thus employs sustainable business practices.
DynaCon Modular Conveyors offer a sustainable and eco-friendly conveying solution by reducing, reconfiguring and reusing. The lightweight impact-resistant polycarbonate modules include plastic link style belting that never needs to be entirely replaced and utilize the most energy efficient motors, which range from 1/30 HP to 1 HP, and cost just pennies a day to operate. Lowering the kilowatts used not only saves money, but also reduces carbon emissions during the making of electricity.
Because the company designs its conveyor systems to be easily configured and reconfigured with reconfigurable conveyor technology that uses standard modules that are quickly connected, the company is able to provide fast delivery of turnkey systems. Most conveyor systems ship within 15 days or less.
"The DynaCon system was one of the easiest ways to get a conveyor that we could find," says Jeff Hull, Project Manager at MaJe Inc. "We were able to lay out what we needed and get the pieces in the plant and assembled very quickly. It was much faster than any other option."
MaJe Inc. performs project management and engineering services, including wastewater and environmental compliance, for various beverage companies including PepsiCo.
For the project, MaJe Inc. installed three blow molder machines and took advantage of the wide variety of conveyor systems offered by Dynamic Conveyor and used different types of conveyors for different areas of the process, including pulling bottles from the molding machines and taking scrap from the blow molders to be reground and reused.
Dynamic Conveyor manufactures DynaCon modular conveyors, DynaCon Low Profile and Reduced Profile conveyors, DynaClean Food Conveyors, spur conveyors, modular roller and gravity conveyors, as well as a host of specialized modules such as cooling modules, incline modules, tumbler separators and box filling systems.
Standard DynaCon conveyor system packages include all straight, incline, decline, and radius turn modules as well as drive flights, retaining walls, and legs.
"We used section conveyors for moving bottles and more customized inclines for moving the scrap," Hull says. To cool the scrap, cooling fans and specialized belts were used for airflow. "We had a lot of options so we could design the system to best serve our customer without having to extend the timeline."
In addition to the quick delivery and wealth of customizable options, Hull says the system "was very easy to configure and fit into the space."
To learn more about Dynamic Conveyor Corp's quick ship program for conveyor systems, next business day parts replacement, 5-year guarantee, or for more information about reconfigurable conveyor technology, visit http://www.dynamicconveyor.com or contact the company at 5980 Grand Haven Road, Muskegon, MI 49441; phone (800) 640-6850; fax (231) 798-9583.