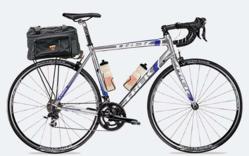 To say the guides provided good service is like saying the temperature on the surface of the sun is warm.
We are telling everyone we know that Pedaltours is the best bike touring company that we've ever travelled with.
Moss Patashnik
Auckland, New Zealand (PRWEB) March 28, 2012
Pedaltours have been running fully guided cycling tours since 1985, so to stay ahead of the game they have decided to roll out a new fleet of cycles for their clients to enjoy. They have chosen the 'Trek 2.1 H3' as their perfect road bike, featuring 30 gears and carbon forks. This is just one reason why Pedaltours attracts a worldwide clientele who keep returning to experience their new destinations.
Pedaltours offer fully guided tours to the these destinations;

New Zealand
Australia
Vietnam
India
Bali
And custom tours
New Zealand
Bicycling (the leading magazine for biking) chose Pedaltours for a good reason. Learn more at: pedaltours.co.nz/new-zealand-cycle-tours. Their clients tour along with the Pedaltour guide through beautiful locations in the north and south island. With backup transport always available for when anyone needs a rest and following the perfect tour route planned by Pedaltours, you can see why their clients keep coming back for more.
Pedaltours caters for beginners and experts alike, offering to tailor make the perfect touring experience.
North Island NZ Tours Include;

8 Day Coromandel Peninsula – Covering Auckland, the Coromandel Peninsula, a farmstay and Rotorua.
8 Day Volcanoes – Covering Rotorua, Taupo, Tongariro National Park, a farmstay and Auckland.
South Island NZ Tours Include;

15 Day Southern Alps – Covering Christchurch, Wanaka, Queenstown, Mount Cook and many other jaw dropping locations.
16 Day Southern Grand – Covering Picton, Nelson, Nelson Lakes National Park, the West Coast, Wanaka and Queenstown.
Many more stunning NZ tours are available.
For Australia tour information, go to http://www.pedaltours.co.nz/australia-bike-tours
For Vietnam tour information, go to http://www.pedaltours.co.nz/vietnam-bike-tours
For India and Bali tour information, go to http://www.pedaltours.co.nz/india-bike-tours
For more information about Pedaltours, go to http://www.pedaltours.co.nz