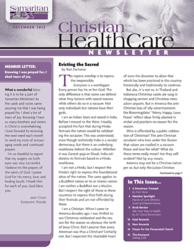 Anti-theists still want the fruit of Christianity.
Peoria, IL (PRWEB) December 05, 2012
The culture of a nation that was founded on Biblical principles now stubbornly refuses to acknowledge the focus—Christ—of its biggest holiday, Christmas, claims the lead article in Samaritan Ministries International's December 2012 newsletter.
The issue leads off with a reprint of an article by Christian apologist Ravi Zacharias that the anti-Christmas and anti-Christian bias of the marketplace at this time of the year flies in the face of our nation's foundations. Advertisements studiously avoid using the term "Christmas." Clerks offer greetings of "Happy holidays" rather than "Merry Christmas."
Zacharias points out that in his native India it's understood that the nation, although officially secular, is dominated by a Hindu culture, and that the religion's holidays are nationally celebrated. In America, though, a nation whose government and laws are founded on Judeo-Christian principles, the secularists have triumphed in the marketplace.
Yet the anti-theists still want the fruit of Christianity, he writes.
"The banishment of Christmas may be the anti-theists' great longing. But they still want the gifts of Christmas—love, joy, peace, and reason," Zacharias writes in his article, originally published in December 2011 on the Patheos website.
In other articles in the December issue:

Worldview writer Rob Slane writes that U.S. secularists also believe they are on the track to "victory" in light of the results of the November elections, which resulted in victories for several pro-abortion candidates and several referendums to legalize homosexual "marriage." But, Slane points out, Scripture makes it quite clear that God has always been in control and that those who think they are consigning Christianity to the trash bin are only doing His bidding for His ultimate triumph.
Dr. David Brownstein's "Salt Your Way to Health" is reviewed by Assistant Newsletter Editor Jed Stuber, who examines the physician's claim that "the conventional wisdom about salt is fundamentally flawed for an astonishingly simple reason: the research is being done on the wrong kind of salt." The book explores the health benefits of unrefined salt.
Scott and Rachel Kramer's Hands of Love Ministry is the focus of the monthly Member Spotlight. The Kramers spread the Gospel consistently through their music, Bible studies and conferences, all while depending on God as they face trials in their own lives.
Original articles are available at samaritanministries.org/blog.
Samaritan Ministries International seeks to help members of the Body of Christ carry out the Great Commission through ministries that enable Christians to better obey Jesus' commands. This is currently done through the Christian Health Care Newsletter health care sharing ministry and the Morning Center maternity hospital ministry.
For more information, contact James Lansberry, 877-764-2426, Ext. 186, jlansberry@smchcn.net; or Mike Miller, 877-764-2426, Ext. 142, or 309-642-9529, mikemiller@smchcn.net.