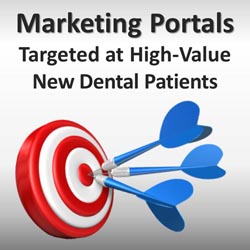 Targeting your dental marketing is the best way to reach new patients.
(PRWEB) February 16, 2012
Dental marketing websites from Internet Dental Alliance, Inc. (IDA) take a major step forward by using a new marketing approach designed to generate targeted high-value leads. Each dental practice can choose its specialty marketing focus, based on its team's clinical skills and the types of new patients it wants to attract. By using IDA's New Patient Marketing Portals, dentists can easily add more markets at any time to their online dental marketing campaign as their practices grow.
In contrast to IDA's new approach to online dental marketing, typical dentist websites often rely on standard templates created for professionals, which are lightly customized with a few general dentistry web pages. Although these sites provide dentists with an online address, they have some significant drawbacks: they can be difficult to update as a dental practice expands, and they rarely attract new patients because they don't show up in the search engine results pages (SERPs) due to lack of proper optimization.
IDA's New Patient Marketing Portals solve both problems. In addition, by using multiple websites, dental practices have the potential to increase revenues by targeting high-value dental markets. A dentist selects a primary dental specialty and a single treatment service to target with each website. It may be general dentistry, cosmetic dentistry, dental implants, braces - whatever types of patients the dentist wants to reach. The dental website is then completely and automatically search engine optimized for that particular market segment.
"Targeting your dental marketing is the best way to reach new patients," counsels Jim Du Molin, founder of the Internet Dental Alliance and a dental consulting expert. "It's not just about how you can attract more new dental patients. It's about getting the very best new patients… the ones your dental practice really wants."
Plans for targeting dental patients are available for specialists as well as general dental practitioners. Campaigns for board-certified specialists are available for the following dental specialties: endodontist, oral surgeon, orthodontist, Invisalign© for orthodontists, pedodontist (children's dentist), periodontist, and prosthodontist markets.
Campaigns for general practitioners include family and general dentistry, cosmetic and restorative dentistry, dental implants, braces and orthodontics, Invisalign ©, dentures, wisdom teeth, gum disease, root canals, tooth whitening, TMJ / TMD, children's dentistry and dental insurance patients. Sedation dentistry is also available as anxiety free dentistry or minimal sedation dentistry.
Dentists can also attract more new patients by geo-targeting their marketing. A dental website must include geographic information (such as neighborhood, town or city, county, ZIP code, and region) for local patients to find a dentist online. To this end, each IDA New Patient Marketing Portal targets the dental practice's primary city as well as up to five surrounding geographic markets.
About Internet Dental Alliance, Inc. (IDA)
IDA is North America's the largest provider of websites for dentists, email patient newsletters and dental directories. IDA offers internet dental marketing services such as websites, newsletters and other dental management advice and resources.
###