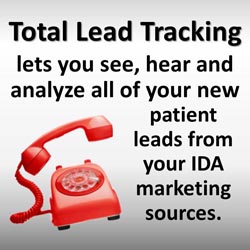 Lead tracking is the single best way to monitor the effectiveness of your dental marketing efforts.
(PRWEB) February 20, 2012
Internet Dental Alliance, Inc. (IDA) announces Total Lead & Call Tracking – a core feature of its New Patient Marketing Machine, and based on its new LeadFire technology. Dentists can now see all of the new patient marketing leads generated by their dental websites and dental directory listings, view details about new patient requests, listen to recordings of actual new patient calls, and graphically analyze the data to fine-tune their dental marketing campaigns.
IDA's Total Lead & Call Tracking system is accessible via the online New Patient Control Panel of a dentist's website. Leads are broken down by dental website and directory listing. Dental practices can glean insights into new patients by analyzing each request for an appointment, based a variety of criteria: ZIP code, city, whether the appointment request was made by phone or email, or even how long the new patient phone call lasts.
"Lead tracking is the single best way to monitor the effectiveness of your dental marketing efforts," explains Jim Du Molin, founder of Internet Dental Alliance and a former dental consultant. "No question about it. Our new LeadFire technology lets you compare your different websites side-by-side. It lets you see which cities and market segments are producing the most new patients for your practice."
Lead Tracking Reports from IDA provide a comprehensive list of a dental practice's new patient leads. Different types of leads are listed, including phone leads, responses to dental website promotions, and patient requests from online dental directories. Notifications can be delivered to the dentist via email, fax, text message, or telephone message. Gathering these leads together lets a dentist determine which dental marketing sources are bringing in the most new patients.
"Call recording lets you see how well your team is converting that appointment request into a new patient in your chair," continues Du Molin. "You could be losing up to half of your leads at the front desk if your team isn't handling them properly. Call recording is the only way you're ever going to really know what's going on when that prospective patient calls in for the first time."
When Call Tracking and Call Recording are turned on, the dentist has access to a list of everyone who has called the dental website's toll-free number to request an appointment. The call tracking report displays information about the caller, their location, the call length, and even includes a recording of each call. By monitoring these calls, a dentist can learn how well the front office is converting new patient calls to actual appointments.
About Internet Dental Alliance, Inc.
IDA is the largest provider of dental directories, websites for dentists and email patient newsletters in North America, all based on its advanced LeadFire lead generation system. The Internet Dental Alliance provides dental practices with online dental marketing services such as dentist websites, newsletters, and other dental management advice and resources.
###