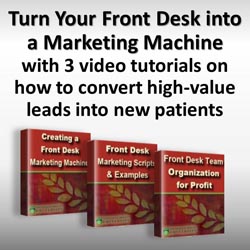 New patients are money in the bank… but...Your front desk needs to convert that call to a patient. And you, the dentist, need to give them the tools and training to do that.
(PRWEB) February 21, 2012
Internet Dental Alliance, Inc. (IDA) now offers bonuses to dentists who sign up for the New Patient Dental Marketing Machine. The most popular is a three-part video series that focuses on improving a dental practice's front desk marketing skills. According to dental marketing industry resource, TheWealthyDentist.com, as many as half of new dental patients can be lost at the front desk, so improving performance there is one of the most effective and low-cost dental marketing strategies to increase profitability. The bonus videos provide dental management and marketing education that can be reviewed as a refresher course, as well as to train new front desk personnel.
The first part of the core program includes the online video series "How to Turn Your Front Desk into a Marketing Machine." Since so many new dental patients are lost at the front desk because of poor systems and call handling, this strategy can improve a dental practice's new patient retention. Three video strategy tutorials show dentists and team members how to convert high-value new patient leads into actual dental appointments.
"The number one problem in dental office management is a poorly-trained front desk," says Jim Du Molin, founder of Internet Dental Alliance and dental marketing expert. "I've seen doctors spend tens of thousands of dollars on dental marketing efforts, only to see their return on investment (ROI) dwindle because the front desk team wasn't trained, organized or equipped to handle the new patient calls."
IDA's front desk training program addresses three top dental office management issues. Part one, "How to Create a Front Desk Marketing Machine," includes sample recordings to show how to analyze telephone answering techniques. Part two, "New Patient Phone Scripts," offers scripts for answering new patient calls and questions. Part three, "Knowing How to Organize Your Team for Maximum Profitability," provides exact job descriptions for each front desk role.
"Not training your front desk is like throwing money away," muses Du Molin. "New patients are money in the bank… but you only get to cash that check if the new patient lead turns into an actual, paying patient. Your front desk needs to convert that call to a patient. And you, the dentist, need to give them the tools and training to do that."
For dentists with advanced online marketing campaigns, IDA offers additional dental team training bonuses. The Internal Marketing & Communications strategy teaches how to increase referrals from existing patients. The Ultimate Case Presentation Program is designed to increase a dental practice's case acceptance.
These dental management training tutorials and many other dental marketing lessons are available for individual purchase at TheWealthyDentist.com, or as part of the complete online dental continuing education curriculum at TheWealthyDentistUniversity.com.
About Internet Dental Alliance, Inc.
IDA is the largest provider of dental directories, websites for dentists and email patient newsletters in North America. Internet Dental Alliance provides dental practices with online dental marketing services such as dentist websites, newsletters, and other dental management advice and resources.
###