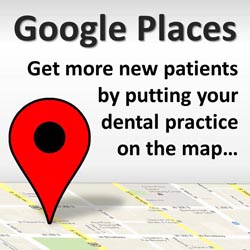 Online lead generation has become a major marketing strategy for doctors who want to grow their dental practice. Many see an increase of 5 or 10 new patients every month – even up to 15 or 20.
(PRWEB) February 22, 2012
Internet Dental Alliance, Inc. (IDA) now features Google Places as a key component in each dental marketing plan. Since new patients often use local keywords when searching online for treatment, and Google automatically provides basic listings for all local businesses, it makes sense to maximize this resource for each dental office. IDA now assists with optimizing the Google Places information in order to generate new patient leads and increase local search traffic to dentist websites.
The primary benefit of the basic Google Places page is that search results automatically display the dental office location on Google Maps. This is particularly helpful for new dental patients using mobile devices for their local dentist search. Since the Google Places page is geotargeted, it helps new patients locate a nearby dentist to inquire about specific services. The Google Map provides directions for those who visit the dental practice for the first time.
Each Google Places page can be optimized with phone number, hours of service, videos, patient reviews, special offers, and links to the main dental website. From there, visitors who want more information can be directed to New Patient Portals based on the specific type of dental treatment they need (general dentistry, braces, cosmetic dentistry, dental implants, sedation dentistry, dentures, etc.). This allows doctors to capture more online leads for specific types of dentistry.
"Online lead generation has become a major marketing strategy for doctors who want to grow their dental practice. Many see an increase of 5 or 10 new patients every month – even up to 15 or 20," says Jim Du Molin, founder of Internet Dental Alliance, Inc. and dental marketing guru. "Thanks to our unique LeadFire technology, the marketing plans we offer go far beyond providing conventional dental websites. For example, the Web Portals are instantly customizable, and they provide market segmentation tools that allow dentists to strategically grow their practice!"
In addition to helping dentists optimize their Google Places listings, IDA's dentist local search marketing campaigns utilize its unique LeadFire technology, and include websites and portals that are geotargeted and geotagged to increase overall search engine positioning for local searches. Each dental website page is optimized with geolocation information: city name, ZIP code, county and state. Dental websites from IDA also target up to 5 surrounding neighborhoods, towns, cities or geographic areas.
"Geotargeting is so important today in dental practice marketing that many of our members have two, three or more websites. IDA's LeadFire technology allows each site to target a specific geographic market and type of dentistry, such as Sausalito Sedation Dentistry or Orange County Cosmetic Dentists," adds Du Molin. "With the increased use of iPhones, iPads and other mobile devices, it's important to geotarget for new patient leads."
Bing and Yahoo! also provide local search marketing options. However, since Google is the most widely used search engine, IDA dentist local search strategies primarily focus on combining Google Pages with geotargeted websites and portals.
About Internet Dental Alliance, Inc.
IDA completed development of its unique LeadFire technology in 2012, and is North America's largest provider of websites for dentists, email patient newsletters and dental directories. Internet Dental Alliance provides dental practices with dental marketing services such as websites and newsletters, find-a-dentist websites, and other dental management advice and resources.
# # #