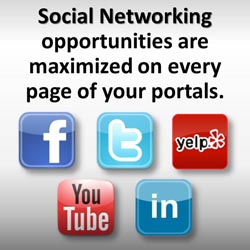 ...IDA designs customized dentist social networking strategies that are easy to implement.
(PRWEB) February 23, 2012
Internet Dental Alliance, Inc. (IDA) announces its new dental marketing strategy that allows doctors to meet prospective patients where they gather on the web. Social networking websites like Facebook, Twitter and Yelp are the most popular way for people to ask their friends for recommendations and share information online. In response, IDA created dentist social networking tools that can be easily integrated with any social networking profiles that a dental practice may already have.
The success of social sites such as Facebook, Twitter, LinkedIn, YouTube, Delicious, Digg, Reddit, StumbleUpon, Tumblr, Orkut, WordPress, LiveJournal, TypePad and others means that social networking tools need to be included in every dental practice marketing plan. However, successful social marketing requires maintaining an active presence, which can be overwhelming (or impossible) for busy doctors.
"That's why IDA designs customized dentist social networking strategies that are easy to implement. For example, websites and portals can be completely integrated into a dentist's personal or professional Facebook profile," says Jim Du Molin, dental patient marketing consultant and founder of Internet Dental Alliance, Inc. "Individual Facebook pages can be built for each market segment a doctor wants to target, including geographical locations, and specialties such as dental implants, braces & orthodontics, Invisalign ©, dentures and wisdom teeth."
Each dental website page is designed so that new patient prospects can be strategically sent to the practice's social networking profile pages for social proof or more information. Twitter feeds and Yelp reviews are good sources for testimonials from existing patient. LinkedIn listings and YouTube playlists are good ways to provide more information about dental specialty areas such as cosmetic dentistry, orthodontics, periodontics or sleep apnea.
"Since most web visitors will have profiles on their own selection of social networking sites, displaying a variety of social networking tools on your dental practice website makes it easy for them to do some dental marketing for you," adds Du Molin. "Referrals are the most powerful kinds of advertising. Patients can spread the word to family and friends by email, or by using their own Facebook pages, blogs or other online networks they've joined."
Dental practice lead generation is an important online marketing strategy for increasing dental practice size, so New Patient Portals are designed to invite web visitors to share the information they find with their own online contacts. Each page is embedded with a selection of links, creating social networking and bookmarking opportunities for patients on hundreds of different sites. Since new social sites are constantly appearing on the web, the list is regularly updated to include the newest online destinations.
About Internet Dental Alliance, Inc.
IDA is North America's largest provider of websites for dentists, email patient newsletters and dental directories, and completed development of its unique LeadFire technology in 2012. Internet Dental Alliance provides dental practices with online dental marketing services such as websites and newsletters, find-a-dentist websites, and other dental management advice and resources.
###