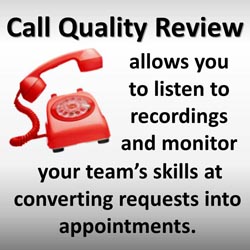 Generating the high-value new patient lead is merely the first step. Converting that phone call into an appointment completes the process.
(PRWEB) February 24, 2012
In response to a survey by dental marketing resource "The Wealthy Dentist", Internet Dental Alliance, Inc. (IDA) announces its new Call Quality Review Program. The survey reports that up to 50% of new dental patients are won or lost depending on how their initial calls are handled by the front desk. IDA's new program, based on its unique LeadFire technology, allows doctors to monitor incoming calls and improve conversion rates.
Marketing strategies for IDA's dental websites focus on a two-step process for creating new patient appointments. The first step is to generate phone inquiries from qualified patient prospects using New Patient Portals, powered by IDA's new LeadFire technololgy . Each portal is optimized based on a dental practice specialty, such as cosmetic dentistry, orthodontics, dentures, dental implants, gum disease, tooth whitening, sedation dentistry, etc. The second step is to convert these phone calls into appointments.
"Over the past few decades, I've seen doctors spend literally tens of thousands of dollars on elaborate marketing strategies – then lose their investment due to lack of training, lack of systems, and lack follow-through by their front desk teams," says dental marketing expert Jim Du Molin, founder of Internet Dental Alliance, Inc. "Generating the high-value new patient lead is merely the first step. Converting that phone call into an appointment completes the process."
Doctors are in full charge of the data their websites collect. The dentist call review feature can be turned off completely, or left on to record each incoming call. Recordings can be reviewed at a later time, and used to improve front desk performance -- to monitor how well the team follows up on new patient leads, to evaluate performance for salary reviews, to coach for efficient customer interaction, etc.
"Implementing call quality review into front desk management can add from 5 to 20 new patients per month to a dental practice. It's our most frequently requested feature," adds Jim Du Molin.
In addition to call monitoring, each New Patient Portal Control Panel provides doctors with a rich variety of reporting tools to improve dental marketing campaigns. Within the "Reports" section, the "Review Leads" page summarizes all new patient leads in a graph, grouped by month. IDA's advanced LeadFire technology allows lead sources to be filtered to display results from a particular web portal or directory, or for a specific practice location.
Results can be further filtered to include leads from web forms, emails, and telephone calls. Other lead reports can be created based on geographical markets (state, city, Zip Code). Reports based on Dental Market provide doctors with data to compare which Portals are generating the most leads, so they can fine tune their dental specialty marketing campaigns.
About Internet Dental Alliance, Inc.
IDA provides dental management advice and resources to dental practices, including online dental marketing services such as find-a-dentist websites. Internet Dental Alliance is North America's largest provider of websites for dentists, email patient newsletters and dental directories, and completed development of its unique LeadFire technology in 2012.
###