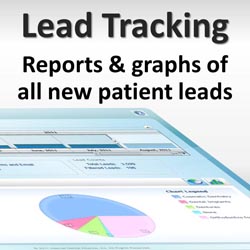 At IDA, we're committed to making the new patient lead generation process as easy and effective as possible.
(PRWEB) February 25, 2012
Now all dental marketing websites by Internet Dental Alliance, Inc. (IDA) are based on its new LeadFire technology, and feature graphs and reporting that deliver rich market data. Dental marketing in today's competitive climate calls for sophisticated lead generation strategies. However, doctors are already busy practicing dentistry. IDA's new reporting capability allows doctors to save time when reviewing the effectiveness of their online campaigns.
The IDA Control Panel displays a variety of information about each lead, including its type (phone inquiry, appointment request, response to a website promotion, smile analysis, etc.), source (which web portal), the time and day it came in, phone number, and possibly email address. Geographic market data can include up to five cities and multiple ZIP codes to maximize search engine visibility.
"At IDA, we're committed to making the new patient lead generation process as easy and effective as possible," says dental marketing expert and Internet Dental Alliance, Inc. founder Jim DuMolin. "For example, our new LeadFire geotargeted organic local search technology makes it possible for doctors to add from 5, 10, 15 and even up to 20 new patients to their practice every month – on autopilot!"
Tracking leads by dental market is another important dental marketing analysis feature of the New Patient Portal Control Panel. Graphs and reporting filters allow doctors to compare the different dental markets they're targeting. For example, the results may show that the Cosmetic Dentistry portal is generating the most new patients, followed by the portal targeted at Orthodontic patients; and the Dentures and Dental Implants portals are generating comparatively fewer patients. Doctors can then make strategic marketing decisions and revenue forecasts that will improve their dental practice management.
"By automating dental lead generation, dentists have more control over their time and income," adds DuMolin. "For example, imagine opening a new practice location and being able to immediately generate geotargeted and market-targeted leads to fill the appointments. IDA New Patient Portals based on our properitary LeadFire technology make that possible!"
New Patient Portals allow dentists to target leads by dental specialties such as General Dentistry, Sedation Dentistry, Tooth Whitening, Braces, Root Canals, and many other categories. Each website can also list up to three secondary dental markets that inform prospective patients about other services (e.g., conscious sedation, laser teeth whitening, Invisalign© braces, abscessed tooth, etc.).
The Portals are maximized for optimal search engine results positioning (SERP) in Google, Yahoo, and Microsoft Bing in order to attract the most leads. They are completely customizable, and can be changed or updated in less than 60 seconds. Doctors can analyze new patient lead data, and respond with changes that are instantly reflected on each page of the dental websites.
About Internet Dental Alliance, Inc.
IDA is North America's largest provider of websites for dentists, email patient newsletters and dental directories. In 2012, it completed its cutting-edge dentist marketing Lead Fire lead generation system. Based on organic geo-targeted local search strategy which is customized for each dental office, LeadFire technology automates search engine optimization, and makes it possible to generate new patient leads within minutes of setting up the system. Internet Dental Alliance provides dental practices with online dental marketing services such as dental practice websites, website design, online newsletters, find-a-dentist websites, and other dental management advice and resources.
###