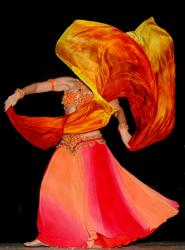 The fun and flirty vibe of The Belly Girls proves irresistible to diners.
Denver, CO (PRWEB) October 07, 2012
Dinner for Six, the Denver dating club alternative to impersonal on-line dating services and high priced matchmaking services, has added a touch of the exotic to their 18th annual wine pairing dinner. The wine-pairing dinner, open to all Denver singles that are Dinner for Six members will be held Sunday, October 7th, at Gabriel's Northern Italian Restaurant in Sedalia.
For their 18th annual wine-pairing dinner, Dinner for Six is taking the classic Denver date night activity of "dinner and a show" to a whole new level. At 5pm, diners will be treated to belly dancing exhibitions by "The Belly Girls" followed by a private Moroccan-inspired wine-pairing dinner at 6pm.
The dinner will start with an assortment of Bruschettas paired with Prosecco from Col Solivo, Italy, for the reception. This will be followed by a Shrimp Gorgonzola over Cappelini appetizer, paired with Pinot Grigio from Benvolio. The soup is a creamy chicken and rice tarragon, paired with Chardonnay from Sonoma-Cutrer, and the salad is an Autumn Caprese with a light Balsamic Vinaigrette paired with Pinot Noir from Leese-Fitch. Diners can choose from five entrées, all paired to Rosso from Fatoria il Palagio, which include a grilled veal chop, fresh salmon, Chicken Saltimbocca, Filet Mignon, and the Moroccan-inspired featured entrée, leg of lamb marinated and slow cooked with a Moroccan spice blend, saffron, and cilantro, served with a garnish of apricots, raisins, and cinnamon, and accompanied by Moroccan Vegetable Couscous. Dessert will be Tiramisu paired with Taylor Fladgate 10 year Tawny Port. Coffee, tea, and soda are also available.
This wine-pairing dinner is one of the group activities planned by Dinner for Six for Denver singles who appreciate good food, good conversation, and a good time. They also host weekly dinners for groups of three men and three women of similar ages and interests on Thursday, Friday, and Saturday nights each week.
Denver singles who want more information about Dinner for Six or who would like to join the Denver dating club can visit http://www.dinnerforsix.com or call 303-777-0700.