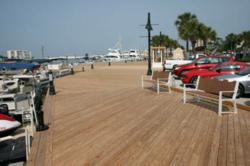 The beautiful city of Destin is making a wise investment in its future, and Ecolife natural wood dovetails well with the harbor's focus on maintaining nature and protecting the environment- Christopher Kollwitz
Destin, Florida; Charlotte, North Carolina (PRWEB) May 31, 2012
Ecolife™ has been selected as the wood decking for the new boardwalk serving the popular resort city of Destin, FL. The goal of the project was to create a pressure-treated wood structure designed to match the existing infrastructure, while being low-maintenance, aesthetically pleasing, and weather-resistant.
Destin's Harbor Community Redevelopment Agency Board and the Harbor Community Redevelopment Agency Advisory Committee selected Ecolife because it offers exceptional beauty, performance and strength. The product's proven performance benefits ensure the boardwalk will maintain its beauty and integrity for years to come.
"We're delighted that Ecolife was selected for this prestigious project," said Christopher Kollwitz, Director of Marketing for Viance. "The beautiful city of Destin is making a wise investment in its future, and Ecolife natural wood dovetails well with the harbor's focus on maintaining nature and protecting the environment."
Real wood delivers a natural look, a solid feel, and a blending with nature not obtained with composite decking. Wood decking does not conduct heat during the blazing Florida summers the way composite decking can. Looking at the lifetime benefits of wood decking vs. composite decking, fewer fossil fuels are used and less acid rain is created within the production cycle of pressure-treated wood.
Southern pine, the wood used for the pressure-treated Ecolife product, is a renewable wood product from sustainably managed forests. It is locally grown throughout the Southeast and locally transported, leaving a much smaller carbon footprint than other product options.
The boardwalk is part of a multi-year, $90 million capital improvement program for the 400-acre Destin Harbor District that includes a public park and plaza, roadway improvements, and land acquisition as part of the initial $15-million phase. Known as the "World's Luckiest Fishing Village," Destin offers unparalleled recreational opportunities and easy access to the aqua waters of the Gulf of Mexico. Its beautiful white sand beaches, world-class fishing, and family-friendly atmosphere draw approximately 4.5 million visitors per year.
"When people come to Destin, we want them to be focused on the beauty that surrounds them," said Kollwitz. "The boats, the shops, the sand, the water – and the new and attractive boardwalk that brings them all together."
About Ecolife
Ecolife Stabilized Weather-Resistant Wood (EL2) is an innovative wood preservative system with built-in protection from the detrimental effects of weathering. Ecolife's unique proprietary stabilizer improves the performance of deck surfaces by reducing the cracking, checking and splitting associated with wood in an outdoor environment by up to 50 percent as compared to other treated lumber products. Ecolife treated wood saves money and reduces project costs and punch lists, and also reduces your initial maintenance requirements on a new wood deck surface, and the need to apply an initial brush on water repellent after the decks installation.
When building with Ecolife™ you'll experience more free time, time you can use to FISH MORE in Destin, FL. or just relax in your own backyard. Enter your Ecolife decks into the "Fish More Deck Challenge", and you could win a Tracker(R) ProTeam(R) TF175 bass boat package, or $500 in monthly cash prizes. Learn more at http://www.Ecolife.Fish-More.com or on Facebook
See more about the Destin boardwalk here:
http://twitter.com/#!/destinboardwalk
http://www.facebook.com/pages/Destin-Harbor-Boardwalk/166551163446193