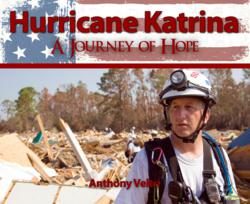 In a crisis, having multiple options is valuable; developing a mindset to recognize and utilize those options may mean the difference between life and death.
Corvallis, OR (PRWEB) August 29, 2012
Imagine that when you wake up tomorrow, the clothes on your back will be everything you own. For many residents of the Gulf Coast, this nightmare scenario quickly became reality following the landfall of Hurricane Katrina. When disaster strikes, there will be those who require the aid of their fellow man and there will be those who are fortunate enough to escape serious harm. Those in the second group have the option of retreating to safety; if the situation warrants, they can return to help those in need who were unable to help themselves. In a crisis, having multiple options, and the willingness to exercise those options is priceless. Which group would you fall into? That is the question posed by the author of "Hurricane Katrina – A Journey of Hope."
The author, Anthony Veltri, a former branch chief at the Department of Homeland Security, was a first-hand witness to the destruction and recovery efforts in the Gulf Coast after Hurricane Katrina. At the time, Veltri was a volunteer with Rhode Island's Urban Search and Rescue Task Force. The experience changed his life and made him determined to help others be prepared for emergencies or disasters in their own lives.
"I am confident that reading about my experience can only make you desire to be better prepared, as you will learn first-hand a small piece of what goes into recovery efforts following a natural disaster," said Veltri about his book.
The book features large, high-quality photos to help tell the story and show the immense impact and destruction caused by the hurricane. Those interested in volunteering or having a career as an emergency responder will gain insight into what it's like to go into a disaster area. Veltri says training and "developing a mindset" that can deal with disaster-type situations is key, and technology cannot replace the well-trained and mentally-conditioned emergency responder.
"A false sense of security is developed when leaders disproportionally invest more resources and trust in technological systems than in the people who run those systems," writes Veltri. "Training and Mindset trumps equipment in most situations and one area where many agencies fall short is in developing the proper mindset in their staff. Awareness of a potential vulnerability is indeed the first step."
For more information about the book including where to buy, visit http://ajourneyofhope.info . For a list of life-saving tips, including supplies and how to purify water for drinking, visit http://ajourneyofhope.info/prep/
The Kindle version of the book has already reached #1 in Amazon downloads in its respective categories and the limited edition print version is hotly anticipated. "The pictures in this book will get you thinking about how an event of this nature could impact your life, I want to make sure it gets into as many hands as possible," writes Veltri.
Anthony Veltri is a small business owner, author and former branch chief at the Department of Homeland Security. He has extensive experience in disaster mitigation and response which includes training in wildfire suppression and emergency medical treatment. During his career, Veltri has dealt with both manmade and natural disasters such as a hurricanes, floods, wildfires and chemical spills. He holds two Master of Science degrees and an undergraduate degree in hydrogeology from the University of Rhode Island.