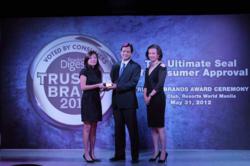 The acknowledgment represented by the views of consumers wasn't only an honor, but a seal that will further strengthen the company's reputation and what brand claims. - Jan Venturanza
Manila, Philippines (PRWEB) October 24, 2012
DMCI Homes' unwavering commitment to customer service and product excellence continues to win the hearts of consumers. DMCI Homes was awarded gold in the Philippine Property-Developer category at the Reader's Digest's Trusted Brands Awards at the Genting Club, Resorts World Manila. The event also marked Reader's Digest 90th anniversary, a milestone for the globally popular magazine founded by Dewitt and Lila Wallace in the US.
Jan Venturanza, DMCI Homes Marketing Manager, told Business Mirror that the acknowledgment represented by the views of consumers wasn't only an honor, but a seal that will further strengthen the company's reputation and what brand claims.
DMCI Homes aims to bring more design innovations and solutions like the Lumiventt Advantage, a design based on principles of airflow, which allows natural air and light to circulate freely around the entire buildings, through corridors, common areas, and residential units.
Beyond building reliable structures, DMCI Homes' resort-inspired residential communities provide a solid foundation where even young middle income families may create comfortable and safe places, which can be enjoyed by generations to come. The company aims to build more communities that respond to the needs and wants of the Filipino family - emphasizing on quality time spent with their loved ones in an environment that is healthy and good for the general well-being of a growing family.
The annual Reader's Digest Trusted Brands Survey, now on its 14th year, polled 8,000 consumers across eight markets in Asia, 1,000 of them from the Philippines. Consumers in the country were asked to rate brands in 43 categories based on the criteria of trustworthiness and credibility, quality, value, understanding of customer needs, innovation, and social responsibility. The survey was conducted by the world's third largest international market-research firm, IPSOS.
DMCI Homes recognizes the consistency of Reader's Digest in its selection of true market leaders across all industries. The company expressed gratitude to its customers and to the magazine's readers who continue to trust their brand's ability on delivering their promise.
At the event, Reader's Digest Asia Pacific executives from Australia and Singapore presented the awards to the companies which scored the highest in different categories.
DMCI Homes, a company of innovative builders and engineering experts providing modern day living solutions for urban families builds with world-standard craftsmanship borne from D.M. Consunji Inc.'s almost 60 years of experience in the construction and development industry. It offers its customers the highest level of expertise and its strict adherence to global standards. Its corporate philosophy is anchored on a deep understanding that buying a home is more about investing for a better way of living.
To know more about DMCI Homes, call 324.8888 or visit dmcihomes.com.