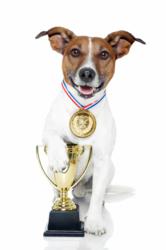 We don't offer these awards lightly. Nominees will have passed very strict criteria to make the list.
Boca Raton, FL (PRWEB) November 23, 2012
According to the American Pet Products Association, who gathered statistics from various market research sources, Americans will have spent an estimated $52.87 billion on their pets by the year's end.
That figure is further broken down by categories - food being the greatest expenditure at nearly $21 billion and pet supplies coming in second at $12.5 billion.
"We pamper our dogs. We bring them wherever we go. We surprise them with gifts and holiday presents," said Brandy Arnold, Content Editor for Dogington Post. "And, as the statistics prove, we don't think twice about spending money on them. Dogington Post wanted to recognize the companies that bring us the best products for our dogs…the companies that care about our pets as much as we do."
Dogington Post announces their first annual Dogington Post Top Dog Awards to honor the best of the best in multiple categories of products for dogs.
Three companies or products will be nominated in each of several categories including Best Canned Food, Best Dry Food, Best Organic Food, Best Raw Food, Best Treat, Best National Pet Store, Best Toy, Best Dog Trainer, Best Rescue, and more.
Nominees will be announced on the Dogington Post and via Facebook and Twitter. Dog loving fans and readers of the site will be encouraged to vote for their choice. Winners will be chosen by combination of fan votes and committee and announced in January, 2013.
The popular dog news site reaches 2.5 million dog lovers each week.
"Our readers look to us for the latest information on dog products, particularly when it comes to food and food recalls. We don't offer these awards lightly," said Brandy. "Nominees will have passed very strict criteria to make the list."
For example, nominees in the Best Foods categories will be companies that source and produce their foods in the United States. No Chinese imported products will be nominated. All other categories must meet strict criteria that guarantees safety and encourages happy dogs and healthy lifestyles.
The first set of nominations will be announced on Monday, November 26th in the Best Toys categories. After the nominees are announced, readers will have a chance to vote for their favorite on http://dogingtonpost.com.
Nominees will be notified weekly via social media as their products are chosen. Winners will receive the Dogington Post Top Dog Seal of Approval, massive social media recognition and a press release by Dogington Post announcing their award.
For more information about Dogington Post and their Top Dog Awards, visit http://dogingtonpost.com.
About Dogington Post:
DogingtonPost.com was created for the love of dogs. It promises a forum of informative articles, newsworthy dog stories, health and breed information, and heartwarming videos. The site addresses current issues affecting dogs and their human parents – from serious health concerns to lifestyle issues on feeding, grooming and the overall well-being and mental health of dogs. It is the Internet newspaper, all about dogs.