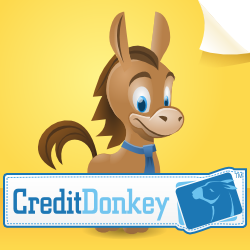 cardholders should always pay more than the minimum
Los Angeles, CA (PRWEB) April 10, 2012
Nobody wants to pay more than they have to. But paying even just an extra dollar on credit card bills can save money in the long run as illustrated in CreditDonkey.com new educational infographic.
Infographic: http://www.creditdonkey.com/extra-dollar.html
Following the financial meltdown of 2008, many Americans have learned to better manage their money, launching credit card repayment plans that have helped reduce U.S. consumer debt.
Unfortunately, much of that reduction can be attributed to credit card companies charging-off bad debt, says Charles Tran, founder of credit card comparison and education site CreditDonkey.com, which today published a new infographic entitled The Power of the Extra Dollar.
"While it's encouraging to see more people handle credit cards wisely, America's total credit card debt is nearly $795 billion, and the average credit-card-holding household owes $14,718," said Tran. "That's why the infographic includes very blunt math on the cost of plastic, as well as tips to reduce debt and improve your credit score."
The first thing the nation's 156 million cardholders should know, says Tran, is that they should always pay more than the monthly minimum. If a cardholder paid only the monthly minimum on a balance of $14,718, for example, it would take 31 years to repay the loan (assuming a 13.04% APR), and cost the cardholder $16,772 in total interest. By putting $300 a month toward the same balance, however, the cardholder would reduce repayment time to 6 years and save $10,347 in interest.
Visit CreditDonkey.com to view full infographic on The Power of the Extra Dollar.
To keep debt under control and improve your credit score, Tran recommended that consumers:

Keep debt to less than 30% of their total credit limit.
Maintain a long credit history by not closing credit card accounts. Instead, simply refrain from using the unwanted cards.
Never pay bills late or allow them to be referred to collection agencies.
Closely monitor their credit scores. It takes a long time to build good credit, but one negative mark can quickly reduce the credit score.
"At the very least, people need to carefully track their income and expenses," Tran added. "Too many people charge things to their credit cards, and then forget about the charges until the bill arrives."
Consumers can visit CreditDonkey.com to compare low interest credit cards with rewards. CreditDonkey.com publishes reviews, deals and tips to help consumers make informed credit decisions. They can search, compare and apply online, finding the best credit cards for their individual needs.