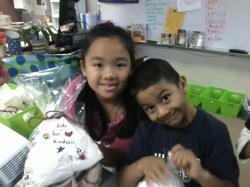 "A simple act of kindness spread through out the land

and you can spread that kind of kindness,

just lend a helping hand…"

--Dr. Hope's Laughing Day Song
Everett, WA (PRWEB) January 05, 2012
LaughingDay.com is a children's website designed by Dr. Hope to inspire children to believe in themselves, to teach them the joy in helping others, the love of laughter, to always try their best and the benefits of living in the present moment.
Nancy Fee, a second-grade teacher at Mukilteo's Challenger Elementary School, was browsing the internet looking for nursery rhymes when she came across http://www.LaughingDay.com, Dr. Hope's children's website. There she discovered Dr. Hope's on-going Act of Kindness contest, a contest to inspire and reward children for doing selfless acts of kindness. On behalf of her students she wrote and told Dr. Hope what her kids had been doing.
Nearly three-quarters of the students at Challenger Elementary come from low-income families. One day Ms. Fee had a conversation with four little girls in her class and was struck by the compassion and caring of which these 7-year-olds were capable. The children told her of a new student, not in their class, that they had seen at recess, dressed in the same unwashed clothes for a week, who was friendless and alone on the playground. They were worried about the trauma this new girl was facing not knowing anyone and worried about her family perhaps being homeless.
These four sweet girls went out of their way to help the new girl find friends: A simple act of kindness. This then inspired Ms. Fee's entire class to do similar acts of kindness. They formed a group called, 'Kids for Kindness' to spread joy to others and in doing so experience the joy one feels when one selflessly participates in helping others.
Ms. Fee's students have snuck into other classrooms, while those kids were out, and left little notes to inspire feelings of self worth, sometimes they delivered treats. They've helped the custodians by picking up trash around the campus. They've written notes of appreciation to the school nurse and librarian. They made and sent cards to veterans on Veterans' Day thanking them for their service. They have spread joy into the hearts of local seniors by reading and playing games with them.
"One of my goals is to give kids a head start in life. I'm fortunate to be able to do that through my children's books. Teaching children the importance of helping others is a value that will help them throughout their lives," said author, Tim "Dr. Hope" Anders, "Helping others is contagious. What these kids have done here is exactly what the 'Act of Kindness' contest is all about: helping one another. It is my great honor and privilege to send the award and storybooks to these children."
Each child that participated received their own copy of the award-winning children's book,Laughing Day/El Dia para Reir personally individually autographed to each child by author Dr. Hope, J.A.P.D. (Just A Pretend Doctor) Laughing Day/El Dia para Reir is a storybook written in English and Spanish, that shows how a simple act of kindness can spread from community to community.
"This contest is on-going and open to children anywhere in the country. I hope other teachers will read this and enter their classes," said Dr. Hope.
About Tim "Dr. Hope" Anders: Dr. Hope is an award-winning children's book author who also writes books for grownups. For more information about him go to http://www.DrHope.com.
For further information
please contact:
Marti Avila, Alpine Publishing, Inc.
Email: mavila(at)alpinepublishing(dot)com
Phone:760 728 3161 Fax: 760 728 3394
Cell Phone: 760 525 3392
###