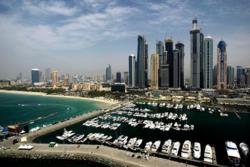 "Brokerage firms believe the new listing website will have a positive impact on the market"
Loai AL Fakir - Partner
Dubai, UAE (PRWEB) August 20, 2012
Simsari emerges as an enterprise, authenticated and trustworthy Multiple Listing Service (MLS) website that handles real estate brokers and permits them to determine contractual offers. Simsari started by Dubai Land Department (DLD) and Real Estate Regulatory Authority (RERA) and brought to life by Emirates Real Estate Solutions (ERES) to be a solution to the expanding demand for a reliable and controlled MLS in the real estate market.
Through Simsari, Buyer and Broker agents can now easily look for dubai property listings, in which they can find their particular ideal match properties instantaneously through Simsari's brokerage network. Likewise, seller brokers can list their dubai properties and take care of the transactions on their own. This innovation in smart real estate property transactions is accessible only through Simsari.
Simsari ensures complete transparency concerning brokers, completely incorporates sale contracts in to a legal framework and opens the opportunity of having the ability to revise these contracts effortlessly in the case of disputes. Additionally, it functions multiple validation processes to make sure the integrity from the data listed. (simsari.ae)
Brokerage firms believe that the latest listing web-site should have a positive effect on the marketplace, bringing a conclusion towards the ominous clan of unregistered brokers along with their fishing property adverts.
Benefits of Dubai Real Estate listing on Simsari include a unique MLS number, which will be generated by the system, without which Dubai Land Department will not proceed to transfer your property in the event of a sale