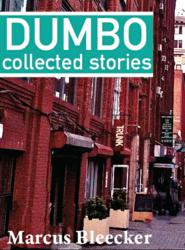 "As a bonus, readers will be treated to a few chuckles as they venture down the rabbit hole of my experiences trying to get my music career off the ground."
New York, New York (PRWEB) May 20, 2012
Filmmaker, musician and writer Marcus Bleecker has announced the launch of DUMBO Stories: Vol. 1, a collection of short stories chronicling his life as a struggling musician living in historic DUMBO, Brooklyn. Readers will enjoy what the author is calling a unique spin on the everyday mishaps that sometimes occur in each of our lives.
One part insanely awkward, one part ridiculously funny, DUMBO Stories Vol. 1 is the debut collection of short stories by the two-time Emmy-nominated cinematographer.  The stories found within the pages of DUMBO Stories are the hilarious autobiographical accounts of the hijinks and haphazard comings and goings in Marcus' life during the tumultuous 1990s in Brooklyn.
"This book is sure to bring smiles to anyone who remembers and cherishes the culture of DUMBO," offers Bleecker. "As a bonus, readers will be treated to a few chuckles as they venture down the rabbit hole of my experiences trying to get my music career off the ground." At the heart of DUMBO, is an innocent enough guy, who manages to entangle himself in Seinfeld-esque antics, yet never loses the contemplative moment amid the craziness. 
Each of these stories explores the most common affairs of everyday life, but with humor, and often poignant outcomes.
In Missy, the task was simple: Take the cat to the vet. One cat bite and two oven mitts later, she's on her way.
The Gnome tells the story of a temp job requiring intricate computer skills that the author does not have, yet attempts to fake his way through it, rather than face awkward shame.
In Fifteen or Twenty Minutes, it's about getting an AIDS test, and the naïveté at the machinations involved.
DUMBO Stories Vol. 1 is available for purchase on Amazon.com, in both a paperback edition and an e-version for Kindle. Additionally, humor fans can connect with Marcus Bleecker and DUMBO on Twitter (@DumboStories) and http://www.facebook.com/dumbostories for updates, giveaways and promotional appearances.