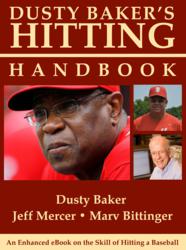 The fundamentals of baseball haven't changed, but how we can teach those fundamentals has.
Carmel, Indiana (PRWEB) September 26, 2012
Dusty Baker, manager of the 2012 NL Central title-clinching Cincinnati Reds, brings his knowledge of hitting to life in "Dusty Baker's Hitting Handbook: An Enhanced eBook on the Skill of Hitting a Baseball" by Dusty Baker, co-authored by Jeff Mercer and Marv Bittinger. The e-book launched on September 10 and is available on iTunes.
"The fundamentals of baseball haven't changed, but how we can teach those fundamentals has. With an e-book, learning can be more rewarding and fun," said Dusty Baker, who spent 19 years as a Major League Baseball player. "I love sharing my knowledge of hitting with others. Now coaches and players at all levels can learn my systematic approach to hitting a baseball with more consistency, mental strength and accuracy."
"Dusty Baker's Hitting Handbook" is jammed with more than 332 pages, four hours of video and 10 hours of audio — all for $7.99. Adapted from "You Can Teach Hitting," which the same authors published in 1993 and which sold 55,000 copies, the new e-book makes learning more exciting and robust by using an iPad (downloaded through iBooks 2; iOS 5 required).
In this new e-book, the master baseball teacher and his co-authors share batting tips, drills and techniques for coaching players. In addition, sections of the complete book are available for download for $2.99 each. Those sections include "Basics of Hitting," "Drills and Development" and "Advanced Hitting."
The e-book includes all of the original text from "You Can Teach Hitting," which was endorsed by baseball phenomenon Hank Aaron. Joey Votto, winner of the 2010 NL MVP Award, has personally endorsed Dusty as his manager with the Cincinnati Reds.
Video lessons in "Dusty Baker's Hitting Handbook" pertain to topics covered in the text to show rather than just tell how to hit a baseball. Readers can take their iPads to practice to have a virtual version of Dusty Baker right in their dugout to reinforce what they're coaching. Users can listen to entire sections of the e-book in their cars as they drive to games and practices.
"Dusty Baker's Hitting Handbook" is designed to be a teaching tool for people who may be unsophisticated about baseball such as parents of a young player. In addition, "The Advanced Hitter" string of instruction running throughout the e-book is an update to the original book and covers many of the topics Dusty coaches with his major-league players.
Although you'll find the e-book packed with tips for advanced hitters, hitting drills and situational hitting exercises, "Dusty Baker's Hitting Handbook" is based on the fundamentals. And like the great hitters, it returns to those fundamentals again and again.
Follow us on Twitter @hitdudes, Facebook, YouTube and get more information at http://www.hittinghandbook.com.
About the Authors
Cincinnati Reds Manager Dusty Baker was a major-league player for 19 years, manager for more than 20, and is noted for his remarkable people skills. His players call him a "Player's Manager." Dusty has been a strong factor in the development of outstanding hitters such as Will Clark, Matt Williams, Kevin Mitchell, Moisés Alou, Joey Votto and Brandon Phillips. He is a four-time winner of the NL Manager of the Year award in 1993, 1997, 2000 and 2002. In 1990 Baker was inducted into United States Black Hall of Fame and Sacramento Sports Hall of Fame.
Dusty finished his playing career with a .278 batting average, 242 home runs, 1,013 runs batted in, and 1,981 hits. Dusty's playing accomplishments include being a member of the National League All-Star team in 1981 and 1982, winning three League Championship series in 1977(MVP), 1978, and 1981, and a World Series title in 1981 with the Dodgers. He won a Gold Glove in 1981 and a Silver Slugger Award in each of 1980 and 1981. Dusty served as an ESPN analyst during the 2006 MLB Postseason and in a similar role throughout the 2007 season.
Jeff Mercer is a highly regarded hitting instructor of youngsters, high school, college and major-league hitters. For better than 30 years, he has coached baseball at virtually every level of play, serving as a high school head coach, Division I assistant, and head coach and Board member in the Indiana Bulls travel organization. In the early 1990s Jeff introduced the baseball training industry to Indiana, and worked annually with hundreds of players ages 8-18.
Marv Bittinger has an impassioned love of baseball. He has also been teaching and writing mathematics at the university level for more than 40 years. Employed at Indiana University - Purdue University at Indianapolis in 1968, he is Professor Emeritus of Mathematics Education. Marv has also delivered lectures such as Baseball & Mathematics at conventions. He has participated in more than 25 adult baseball fantasy camps with the Dodgers, Giants and Reds.
More information can be found at http://www.hittinghandbook.com. Copyright © 2012, Marvin L. Bittinger. All rights reserved. ISBN: 0985997583. ISBN 13: 978-0-9859975-8-8. Published by: 2.718 ePub, LLC