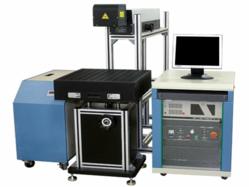 (PRWEB) July 29, 2012
Dynamic laser marking machine can be used to uniquely identify small devices, enhancing tracking capabilities as well as preventing counterfeiting. Dynamic laser marking represents the new advanced technology in laser machine industry.
Etlaser, a major laser machine manufacturer based in China, announces new its new laser machine: The DDB-100 tri-axis dynamic laser marking machine.
The DDB-100 is specially designed for the laser scanning with tiny light spot, large working range and high flexibility and features 100W RF metal laser tube imported from USA, advanced dynamic focusing scanning mirror & control card.
Features in Brief:
◆ Full sealed and maintenance-free laser optic system imported from USA or UK, enabling installation without adjustment.
◆ Coherent RF laser tube made in USA, enjoying large power, high-quality light spot, excellent performance, stable power and long service life(20k hours).
◆ The 3 axes laser scanning system is featured by compact construction, dust-proof, convenient and accurate installation, strong anti-jamming ability, etc.
◆ The heat elimination method of the scanning motor and the drive board has been taken into full consideration during the design of the system to ensure the stability of the system under long-hours working condition.
◆ High-precision and high-speed marking/cutting, with efficiency 20% higher than other similar models.
◆ Optional rotary worktable system for accomplishing marking on cambered surface.