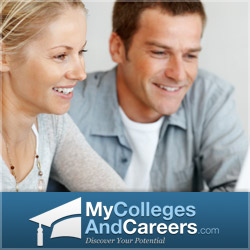 Of those unemployed in Quarter 4 of 2011, 26 percent of them have only a high school diploma.
Provo, UT (PRWEB) February 09, 2012
Pew Charitable Trusts completed a survey of data from Quarter 4 of 2011 showing that of those unemployed, 26 percent of them have only a high school diploma. Alternatively, those with a bachelor's degree compose only 11 percent of the unemployed, with master's degrees and above at just 5 percent. My Colleges and Careers is prepared to help individuals seeking to better their education, and consequently their employability, to connect with online colleges.
This same study also broke down the number of those employed in the U.S. according to their level of educational attainment: 14 percent are those under the age of 25 (termed 'other' by the study), 8 percent have less than a HS education, 24 percent have a high school diploma, 31 percent some college, 19 percent bachelor's degrees, and 11 percent have advanced degrees. In total, those with at least some college experience make up at least 54 percent of the labor force. The trend towards hiring individuals with a college degree will one day become inculcated among leaders in all industries. All of the tools and services featured on the My Colleges and Careers website have the goal of guiding individuals toward online schools that offer accredited online courses and complete degree programs.
Pursuing online degrees is a route that many students are electing to undergo in order to make the process of earning a degree as hassle-free as possible. My Colleges and Careers has created degree-finding tools on their website that are able to pair prospective students with accredited online degree programs. While this tool is most decidedly the star of the website, other features include infographics, news updates, lists of top online schools, and even a career- and education-focused blog. Experts from fields such as design, health care, technology, business, and education contribute regular articles to the blog. The data continues to prove that an education is essential to not only obtain a career, but to also keep it. My Colleges and Careers understands the importance this can have on quality-of-life, which is why they are committed to helping individuals earn their degree and qualify for high-quality careers.
About My Colleges and Careers
My Colleges and Careers is dedicated to helping students and prospective students earn their college degrees through online degree programs. Considering that most students have other responsibilities and commitments, My Colleges and Careers can become a great resource for those seeking a way to fit school into an already busy schedule. Through online programs, students can complete their schooling at their own pace. The tools and services offered on the My Colleges and Careers website have already assisted many students in completing their education and starting a successful career.
###