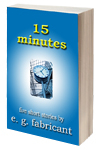 This was very moving and it struck many chords for me.
Sacramento, CA (PRWEB) August 14, 2012
Author E. G. Fabricant has entertained a wide audience with his works of short fiction, but unfortunately, he disappeared from the scene for eight months as he cared for his sister through her final illness. Gaining a new perspective about where his life must now lead, he is back and ready to devote his life to his writing.
Mr. E. G. Fabricant has three simple goals in his works of fiction and non-fiction - to entertain, inform and converse. Holding Mark Twain as his hero, he strives to create fiction that moves someone to laughter and tears. He has been compelled to discover his own voice and it seems that he has honestly accomplished this, from viewing his stories, rants and screenplays.
E.G.'s interest in striving to make his voice heard lay dormant until, after entering the 2001 Mark Twain Writing Competition, he was selected as one of their ten finalists. At this point, he felt ready to discover and entertain his own audience. He has followed his personal maxim, "Who we are, what we do and what happens next make the best stories."
To connect with his fans, Mr. Fabricant has social media pages on Facebook, and with Twitter, LinkedIn and Pinterest. Additionally, on his website he offers a free copy of his eBook, 15 Minutes, when a fan signs up for his updates sent via email. He states that he is always interested in what his readers have to say – and best of all, he responds personally. Also available on his site is his first collection, Matters Familiar, which you can purchase with a few well-placed clicks.
About E. G. Fabricant: Author E. G. Fabricant lives and works in Sacramento, California, with his books offered for purchase on Amazon, Barnes & Noble, Powell's Books and other popular bookseller websites.