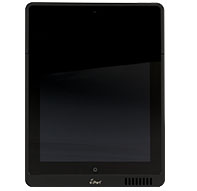 Whilst not part of our core business we understood how attractive this could be to some of our clients
Kevin Clayton, MD, E-LIFE Home Automation
(PRWEB UK) 25 March 2012
As a company E-LIFE Home Automation specialize in designing and installing home automation systems, which can include the integration of a number of systems mainly lighting and heating, door and gate entry, data networks, multimedia solutions, home cinema rooms and audio, visual systems. On top of this infrastructure normally sits some sort of control system traditionally this has been from wall mounted touchscreens or wireless handheld units compatible only with certain manufacturers systems. Lately our clients have been demanding control from their iPads and a number of manufacturers have been producing apps to make this possible. These systems still require some sort of "fixed" control unit, for when the iPad is off site or otherwise engaged!
Like us a lot of our clients love their iPads, and use them in every room in the house and yes, we literally mean everywhere! Their essential to our functioning, so you can imagine how essential it is to make sure it's well charged. The Launchport makes charging a "no brainer" it's always were you left it, ready to go.
Whilst our core business is the complete design and installation of home automation systems, we were impressed enough with this product to enquire about distributing it. The system consists of a sleeve which then fit's onto your iPad, which in turn sits on a tabletop or wall mounted base station to charge.
It attaches itself through a series of magnetic strips at the back so can mount onto any metal surface including fridges and metal bed steads. There is a really useful video here.
LaunchPort uses induction which means as soon as a Sleeve is mounted to a Station, charging begins immediately- without a 30-pin cable or conductive elements. Magnets are used to mount and affix your iPad in its Sleeve to a Station. The tabletop BaseStation only uses some of the magnets in the LaunchPort system, making it easier to grab and go. The WallStation uses all magnets in the system for secure and safe mounting.
LaunchPort changes how you can use your iPad in your home and is available from
E-LIFE Home Automation.