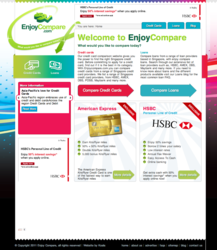 Our vision for Asia's latest Credit Card and Loans comparison website is to make the research and decision process a smoother, simpler and more enjoyable experience for our visitors, to guarantee they get the most competitive deals available
Singapore (PRWEB) May 22, 2012
Everyone needs a helping hand sometimes. Whether it's paying for the perfect mini-break, splashing out on a new car or simply working out how best to manage your existing debts, credit cards and personal loans can offer a lifeline when things get a little tight.
Until now, finding the most competitive deal has been a minefield for consumers faced with a myriad of different products, offers and interest rates. But the launch of Singapore's newest comparison website enjoycompare.com aims to take the pain out of finding the best deal – and puts you firmly back in control of your finances.
Launched last month, enjoycompare.com is the only comparison website in Singapore to focus exclusively on credit cards and personal loans.
Providing a one-stop-shop of useful, easy to understand information about a range of financial products, the website features promotions from all the major banks in Singapore - including HSBC, Citibank, Maybank and many others.
As well as helping you to find deals you might otherwise have missed, enjoycompare.com allows you to review individual products, so you can be sure you're getting the right deal for you.
And once you've found the perfect match, applying is only a click away - so you can really enjoy the comparison process.
Tailored to the Singaporean market, enjoycompare.com is the latest in a number of comparison websites in South East Asia and looks set to emulate the success of other popular international sites such as moneysupermarket.com
Enjoycompare spokesperson said: "Recent activity in the banking sector has shown people are becoming more and more motivated to find a better deal when it comes to their personal finances. However, the time and the effort involved prevents many from acting.
"Finance comparison websites such as enjoycompare.com are a powerful tool for consumers, enabling them to overcome many of those barriers and uncover deals they may otherwise have missed.
"Our vision for the website is to make the research and decision process a smoother, simpler and more enjoyable experience for our visitors, to guarantee they get the most competitive deals available."