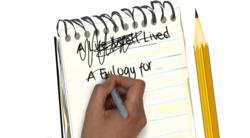 Delivering a eulogy is going to be a challenge, but that doesn't mean it has to be a struggle.
Corvallis, Ore (PRWEB) September 30, 2012
Have you ever had the opportunity to deliver a eulogy? Have you ever been asked to deliver a eulogy but were intimidated by the prospect of creating something original and meaningful, and putting your emotions on the line in front of many people?
Rebecca Veltri is the author of a new guidebook titled The Eulogy Handbook, which aims to equip bereaved relatives and friends with a framework to create and eloquently deliver a spoken tribute. "So many people want to say something at a memorial service, but stop themselves because they feel nervous or think they don't know how. Delivering a eulogy is going to be a challenge, but it need not be a struggle," says Veltri. "When writing this guide, I focused on simplicity and ease of implementation. People have a lot going on when they suffer a loss and guidance of this nature needs to be short, to the point and easy to implement."
Losing a loved one is one of the most difficult experiences in life. It is an emotional, busy and confusing time. Creating a thoughtful piece of writing and/or delivering a lasting oration is hard regardless of the situation. When it is a eulogy you are creating, however, it becomes much more challenging because of the emotions involved.
The Eulogy Handbook provides a step-by-step guide to writing and delivering a meaningful eulogy. It includes worksheets to walk the reader through the brainstorming process, and provides a building block approach to organize the structure and content. In addition, it offers tips for delivering a eulogy, a missed component in many guides. Understanding how to prepare can ease the anxiety of speaking in front of a large group. In addition, learning how to structure the eulogy can help the audience to be more engaged, which fosters a healing environment for both the speaker and the audience.
The Eulogy Handbook transcends similar guides as it encompasses all components of brainstorming, writing, and delivering a eulogy that will be remembered. Most importantly, it is concise and to the point, which enables the person preparing the eulogy to begin creating the eulogy after reading only a few pages. For more information for how to get this guidebook, go to http://eulogyhandbook.com/
Rebecca Additon Veltri holds a doctorate in physical therapy from Boston University. She has spent part of her career providing services to children in underserved areas of Hawaii and remote Alaska. Through her travels, work in acute care and personal experiences, Veltri has witnessed and experienced loss, both personally and as a professional. Recently, Veltri lost a very good friend unexpectedly in a car accident. The Eulogy Handbook was developed after her own struggle to put a meaningful speech together in honor of her friend. She brings this experience, along with other personal and professional experiences together to guide the reader through a simple step-by-step guide on how to write and deliver a eulogy. The purpose of the guide is to remove the burden of writing a eulogy by providing a guide that is easy to follow and time efficient, both features that are important during a difficult and busy time.