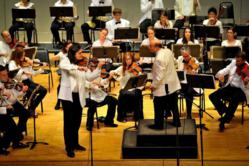 Wellsboro, Pennsylvania (PRWEB) April 04, 2012
Tioga County is home to Pine Creek Gorge affectionately known as Pennsylvania's Grand Canyon. Although a draw primarily for its abundant outdoor activities, Tioga County's 2012 attractions include the third destination city for the 2,500-mile 2012 Fireball Run Adventurally Northern Exposure adventure rally, the 120th anniversary of the first night-time football game played under lights, and the seventh anniversary of the world-class Endless Mountain Music Festival featuring noted classical musicians from around the globe.
Fireball Run Adventurally roars into Wellsboro on September 24th, destination three as part of the 8-day, 13-city, 2,500-mile scavenger hunt. Race teams will be completing a series of missions while they are in Wellsboro as part of an adventure game culminating in a movie production by Universal Studios Orlando. More important than the scavenger hunt is that this is a race to Recover America's Missing Children. Racers work with communities to aid in recovery of missing children by distributing information across the country. The race has aided in the recovery of 38 children so far! This year's celebrity racers include Shea Holbrook, Long Beach Grand Prix Winner; Tarah Benzel, Pro Wakeboard Champion; Tina Stull, NHRA Super Competition Dragster Driver; and "Timber" Tina, World Champion Timber Sport Lumber Jill.
The lights come up on September 28 and 29, 2012, to mark the 120th anniversary of the first football game played under electric lights. This game is re-enacted each year as part of the Fabulous 1890s Weekend in Mansfield, Pennsylvania. The original game was played on September 28, 1892, between Mansfield University and Wyoming Seminary. The game re-enacted each year is played with 1890's rules and equipment. For more information about the event, check out the website.
The maestro cues the orchestra and music lovers will be enchanted by the two-week Endless Mountain Music Festival beginning July 28, 2012 through August 12, 2012. Twenty-five events in 16 days will be performed throughout venues in Wellsboro, Mansfield, Blossburg, Canton, and Troy in Pennsylvania and flow into Elmira and Corning, New York. Classical musicians performing include Robert Bokor, Nancy Boston, Adam Mahonski, Dmitri Gerikh, Grammy award winner Shelton Berg, Charles Rex, Frederick Zlotkin, Bram Wijnands, and many more. A full schedule of performers and performances is available on the website. The combination of beautiful scenery, small town charm and world-class musical performances is not to be missed.
While fall is the most popular time to visit because of the dramatic color changes across the rolling mountains, a variety of activities throughout the year are inviting reasons to visit Tioga County Pennsylvania.
For more information, please visit the website.