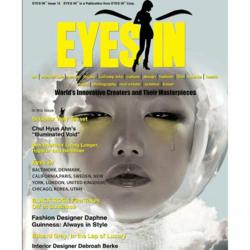 an artistic getaway with articles that literally jump off the pages to the point where individuals feel as if they are living the moment through the creators' eyes
New York, NY (PRWEB) November 07, 2012
A rare magazine that puts the investigative spotlight on innovative creators and their masterpieces, publishers of EYES IN™ Magazine announced the release of issue 13 to the Apple Newsstand, Barnes & Noble Nook, and Amazon Kindle. This issue of the highly anticipated monthly magazine features exciting interviews and illuminating photography from the world's top creators in artistic and innovative fields. Creators such as fashion icon Daphne Guinness, cookbook author Elizabeth Bard, Swedish designer Eduard Gray, and health expert Dan Buettner are featured in the latest issue.
Since its late 2010 launch, EYES IN™ has matured from an online heaven featuring mainstream artsy stories to a media company viewing the artistic world from a 360⁰ viewpoint. "Issue 13 promises to take readers on an unforgettable journey of art, film, design, travel, science, photography, and more. From Sweden to Paris and from Korea to New York City, we are covering the globe with our stories" said Vivian Van Dijk, Editor-in-Chief and publisher of EYES IN™ Magazine. "Readers have come to know this masterpiece as an artistic getaway with articles that literally jump off the pages to the point where individuals feel as if they are living the moment through the creators' eyes."
Hitting all corners of the globe-from countries like India, China, Brazil, Italy, and most African nations-the online magazine is poised for significant growth. By expanding its editorial promise of bringing innovative creators and their stories to audiences that appreciate fine art and living, the magazine is now being distributed on multiple mobile devices, apps, and printed versions through independent online retailers.
Issue 13 spotlight features include:
*Photographer Chen Man, a Beijing breed powerhouse in capturing style, fashion, and fantasized beauty through glamorous cover artistry.
*An in-depth interview with Korean visual artist Chul Hyun Ahn and his fascination with infinite space and the visual environment.
*Inside scoop on iconic fashion figure Daphne Guinness and her exhibit in New York City's sole archival fashion venue, The Museum at FIT.
*Sundance Film Festival alumni and filmmaker Kate Aselton, the visionary behind the much raved about female-driven thriller Black Rock.
EYES IN™ releases digital publications once per month via the EYES IN™ app on the Apple Newsstand as well as on the Amazon Kindle , Barnes & Noble Nook, and the Google Play store. The company also sells printed books via CreateSpace and Lulu.com.
For media, self-publishing, sponsorship or advertising inquiries, please Contact Desiree Frieson or Vivian Van Dijk at press [at] eyesin [dot] com. To learn more about EYES IN™, visit http://www.eyesin.com.
About EYES IN™ Corp
As a publisher of the world's innovative creators and their masterpieces, EYES IN™ spotlights innovation in fields of architecture, art, beauty, books, culinary arts, culture, design, fashion, film, finance, health, music, photography, real estate, science, technology and travel. It's a must read for anyone who wants to stay informed on global trends, upcoming and celebrity creators in these areas. EYES IN™ delivers a state-of-the-art visual experience into the minds and works of the most stunning creators.