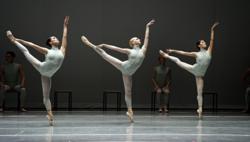 "Fall Program is a trio of extreme high-energy ballets, to kick off the thrilling season ahead," said Artistic Director, Nissinen. "Never underestimate Jorma Elo – this new work is a captivating, complex and poignant journey."
Boston, MA (PRWEB) October 12, 2012
Boston Ballet commences the 2012-2013 season with Fall Program, a powerhouse trio of contemporary works to be presented October 25 – November 4 at The Boston Opera House. The program features three visionary choreographers, including Christopher Bruce's Rooster, William Forsythe's The Second Detail, and a world premiere by Boston Ballet's Resident Choreographer, Jorma Elo.
"Fall Program is a trio of extreme high-energy ballets, to kick off the thrilling season ahead," said Artistic Director, Nissinen. "Never underestimate Jorma Elo – this new work is a captivating, complex and poignant journey."
The world premiere, titled Awake Only, is Elo's tenth creation for Boston Ballet. Prior works he has created for the Company include Sharp Side of Dark (2002), Plan to B (2004), Carmen (2006), Brake the Eyes (2007), In on Blue (2008), Carmen Illusions (2009), Sacre du Printemps (2009), Elo Experience (2011), and Sharper Side of Dark (2012).
Awake Only depicts the most essential encounters in life, with an underlying theme of discovery – discovering emotions, discovering loss, and in the process, discovering oneself. It is set to a score by Johann Sebastian Bach featuring piano and organ. The contrast between piano and organ is meant to represent the aging and maturing in one's life.
"Imagine seeing your life in front of you like a merry-go-round," said Elo, "all the experiences, all the people you met, and how seeing those people make you realize how you have changed."
Elo's world premiere will feature a cast of eleven dancers, eight women, two men, and one young boy. The new work will be book-ended by the smash hits Rooster by Christopher Bruce featuring music by The Rolling Stones, and The Second Detail by William Forsythe.
When the Company last performed it in March 2012, The Boston Globe called Rooster an "unabashedly feel good ballet." This vivacious work features eight of The Stones smash hits, including Ruby Tuesday, Paint it Black, and Sympathy for the Devil.
The Second Detail is an explosive ensemble work by William Forsythe, which was last performed on the Company's debut tour to Finland. The work received rave reviews, with The New York Times claiming the piece "bursts into multifaceted life."
All performances of Fall Program will take place at The Boston Opera House:
Fall Program
Oct 25 – Nov 4, 2012
Christopher Bruce's Rooster
Music: The Rolling Stones
Jorma Elo's Awake Only
Music: J.S. Bach
William Forsythe's The Second Detail
Music: Thom Willems
Thursday, October 25, 2012, 7:30 PM
Friday, October 26, 2012, 7:30 PM
Saturday, October 27, 2012, 1:00 PM
Saturday, October 27, 7:30 PM
Sunday, October 28, 2012, 1:00 PM
Thursday, November 1, 2012, 7:30 PM
Friday, November 2, 2012, 7:30 PM
Saturday, November 3, 2012, 7:30 PM
Sunday, November 4, 2012, 1:00 PM
For more information, please visit:
http://boxoffice.bostonballet.org/
About Boston Ballet
Since 1963, Boston Ballet has been one of the leading dance companies in the world on stage, in the studio and in the community. Under the leadership of Artistic Director Mikko Nissinen and Executive Director Barry Hughson, the Company maintains an internationally acclaimed repertoire and one of the largest ballet schools in the world, Boston Ballet School.
Boston Ballet maintains a repertoire of classical, neo-classical and contemporary works, ranging from full-length story ballets to new works by some of today's finest choreographers. Boston Ballet's second company, Boston Ballet II, is comprised of pre-professional dancers who gain experience by performing with the Company and independently, presenting lecture-demonstrations and special programs to audiences throughout the Northeast.
Boston Ballet School, the official school of Boston Ballet, has a long-standing dedication to excellence and access. The School reaches more than 10,000 students (ages toddler to adult) each year through Boston Ballet School classes, the Summer Dance Workshop, and the Summer Dance Program held at three studio locations in Boston, Newton, and Marblehead.
Boston Ballet's nationally-acclaimed education programs include Citydance, Taking Steps, and Adaptive Dance. The programs are offered in partnership with the Boston Public Schools and in communities throughout the city and region.
2012-2013 Season Tickets
Subscriptions for the 2012-2013 season and individual tickets to all ballets are on sale now. Subscriptions and all tickets are available for sale online 24 hours a day at http://www.bostonballet.org or by phone at 617.695.6955 or in person at the box office at 19 Clarendon Street, Boston, Mon–Fri, 9:30am – 5pm and on performance days on Sat and Sun, 11am – 4pm. Prices for season ballets start at $29. Tickets to The Nutcracker start at $35. Discounted group tickets (10 or more) are available by calling the box office or the Group Sales Associate at 617.456.6343. Contact the Boston Ballet box office at 617.695.6955 or visit http://www.bostonballet.org for details.
Boston Ballet gratefully acknowledges the following institutional partners:
State Street Corporation, 2012 Presenting Sponsor, The Nutcracker
Barr Foundation
The Boston Foundation
Massachusetts Cultural Council
National Endowment for the Arts
# # #