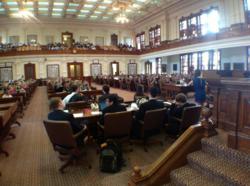 "The students that registered for Fall State were not the same statesmen at the end of the convention"

-Kathryn Edmunds, Southeast Student Governor
San Mateo, CA (PRWEB) November 20, 2012
The Junior State of America (JSA) held fall conventions in eight cities over the past two weekends, where over 4,000 politically-interested students from across America, led by their peers, gathered for a weekend of civic engagement, political activism, and vigorous debate. These students planned and executed conventions in Woodbridge, New Jersey, Irvine, California, Austin, Texas, Bellevue, Washington, Los Angeles, California, Ft. Lauderdale, Florida, Boston, Massachusetts, and Santa Clara, California.
The convention theme, "Crafting a More Perfect Union: A Nation in Transition," contemplated the future of America through a series of debates and simulations. After a contentious election season, throughout the country, people are asking, "what next?" Students engaged in a variety of activities including debates, thought-talks, mock trials, and other simulations, which critically examined the political landscape. Students debated issues such as alternative energy, state and national budget priorities, gay marriage, and even participated in a mock Supreme Court session reenacting the Fisher v. University of Texas oral arguments concerning the use of affirmative action in college admissions.
Students also had the opportunity to hear from and question several influential keynote speakers. Among them, Author Adam Freedman spoke to students in New Jersey about constitutional originalism, and the ways in which the Constitution frames our political debates. Harvard Law professor Ronald Sullivan spoke to students about ensuring fair and equal access to legal services. Washington State Senator Dino Rossi spoke in Bellevue about his experiences working across party lines and the need for bipartisanship. And Los Angeles, UCLA Associate Professor Lynn Vavreck and journalist Sasha Issenberg, spoke to the students about campaigns and elections.
"Fall State this year was more than just teens debating. It was future leaders gathering together to plan for how to make the United States a better place. JSA set the environment to allow young leaders to prepare for the future, guided students on how to articulate their opinions, and how to build friendships that will last a life time," said Kathryn Edmunds, a student leader in the Southeast.
JSA will also hold conventions this December in Tucson, Arizona, Madison, Wisconsin, and Cincinnati, Ohio. For more information, contact Kyle Simmons at (202) 591-3738 or ksimmons(at)jsa(dot)org
Junior State of America (JSA): Providing civics education and leadership programs for nearly 80 years, JSA is the largest student-run organization in the United States. School-year programs take place in more than 450 secondary schools in 35 states, with more than 10,000 members. The JSA program is supported by the Junior Statesmen Foundation Inc., a 501(c)(3) tax-exempt educational corporation, which provides guidance to JSA's student leaders. It has offices in San Mateo, Calif., and Washington, D.C. More information is available at JSA.org or jsa(at)jsa(dot)org.
# # #