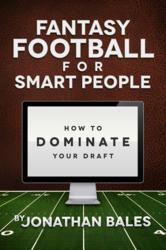 (PRWEB) August 14, 2012
Fantasy Football for Smart People: How to Dominate Your Draft has quickly become the top football book on Amazon. The fantasy football book is unlike any other on the market, containing in-depth fantasy football strategy to help you create rankings and projections to dominate your fantasy football draft. Fantasy Football for Smart People is the only truly advanced fantasy football book available, possessing in-depth analysis for experts and bottom-line analysis for novice owners.
The author of Fantasy Football for Smart People, Jonathan Bales, is a writer for the New York Times, USA Today, NBC, and DallasCowboys.com. He also writes fantasy football columns for RotoWire, Pro Football Focus, FF Today, and others. His focus on fantasy football strategies that are complex enough for advanced owners but applicable even for beginners has made Fantasy Football for Smart People the #1 ranked football book on all of Amazon.
After reading Fantasy Football for Smart People, you'll know:

How to use your opponents' beliefs to get the best players
How to use scarcity at a position to acquire maximum value
Why you should start a nearly identical lineup each week
How to create tiered rankings that implement players' risk
When and how to take gambles during your draft
Why defenses and kickers are almost entirely unpredictable
Why a quarterback or top-tier running back should be your first-round selection
Why tight ends are the most consistent players in fantasy football and drafting one early in 2012 might not be a poor idea
How to make tiers in your rankings
Why you should almost never take the best player available on your board (for real)
Why drafting near the end of a round is advantageous
Why Aaron Rodgers and Rob Gronkowski might be the perfect 1-2 combination in 2012
Why you can grab quality wide receivers late
How to identify breakout players and dispel fantasy football "truisms"
How to identify undervalued players
Why running backs with lots of carries aren't really being overworked or overvalued
How to predict running backs' yards-per-carry
How fantasy football is incredibly similar to the stock market (and what we can learn from the latter)
Why a player's value can be different for different teams
How to "buy low" and "sell high" during your draft
How to utilize public perception
Why your focus shouldn't be securing the most projected points with each pick, but rather "losing" the least
How to create an overarching draft plan to dominate your draft
How to factor league requirements into your rankings
How to create player power ratings and turn them into the ultimate big board
You can purchase Fantasy Football for Smart People at FantasyFootballDrafting.com or on Amazon. You can also purchase Jonathan's complete rankings, projections, and overvalued/undervalued players for just $2.99.