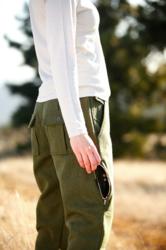 Took my new field pants on a recent hunting excursion and never took them off.
Trout Lake, WA (PRWEB) November 14, 2012
Alpaca, is it really as good as everyone say? "Absolutely," says Gina Eisele, founder of Woop!Wear alpaca activewear company. Alpaca, long touted as being warmer and lighter than traditional wool is starting to gain ground beyond the high fashion industry. Alpaca is now also being used in more performance based apparel.
Alpaca is an appealing natural fiber; insulating, lightweight, and durable. All of these qualities have been capitalized on in this years Alpaca Field Pant that Woop!Wear is offering. While alpaca is often looked at as suitable for the more genteel clientele, Woop!Wear has developed an Alpaca Field pant made to be used and abused. The tighty woven fabric is wind and water resistant, but does it itch? "Not to most people" says Gina. "these pants are warm enough and soft enough to not need any long underwear underneath"
What exactly is a "field pant"? Well, when jeans just aren't enough and you don't want to put on a full snow suit with multiple layers – the field pant will do just fine. Cold winter hiking, camping, ice fishing, hunting, winter bicycle commuting, friday night football games …. Gina, who has three kids, says "When it snows we go out and play multiple times a day and it was just too exhausting and time consuming to take multiple layers on and off each time. I can wear these out sledding and be completely warm and the water just sheets off."
The company also offers base layers and casual wear, all composed of alpaca fiber. The company Woop!Wear is based in Washington state where there is plenty of opportunity to benefit from the warmth alpaca offers. Nice to see that alpaca clothing being offered in an outdoor oriented line. Looking for something for your outdoor enthusiast this holiday season? Might want to give alpaca a try http://www.woopwear.com.