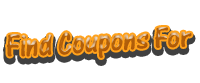 We developed FindCouponsFor with the idea that social media will help the site evolve. There are so many great offers out there. We want everyone to share when they learn about a great coupon!
Tampa, FL (PRWEB) August 29, 2012
Today's economy has made it harder than ever for people to afford the luxuries they desire. The internet has quickly become the number one way to shop for many. With the touch of a button merchandise is on its way without ever leaving the house. There are an abundance of great online deals not offered at store locations. However, sometimes finding those deals can pose a challenge. Find Coupons For is proud to announce the launch of their new coupon website.
The new coupon site, FindCouponsFor.com, includes plenty of great offers at discounted prices. They make it easy to find the products people want. Coupon categories include kitchen items, jewelry, photos, and even dating services. Users can simply search through the categories for any items they wish to purchase. Those who already know what they are searching for can easily enter a key word, such as a brand name, in the search bar. Once they find the coupon it will say click to redeem. Shoppers who find items that include a coupon code will be able to apply that code at checkout. Either way it is an effortless method to save money.
FindCouponsFor.com not only provides great money saving deals, but they also provide customers with a community in which they can share their experiences. They will be able to find valuable coupons, but also have the opportunity to help those who are looking for a bargain by sharing their own finds. Word of mouth is always a great way to get the best recommendations. Users can comment about their experiences which will help others make easier decisions about their purchases. They will also be able to share their finds thanks to social media. Users can share the discounts through email, Facebook, Twitter, Digg, and Reddit. New stores can always be suggested by shoppers whenever they do not find a particular store. Once they make a suggestion, that store's coupons can be added to the site as well.
The site also offers a live twitter feed proving users up to date information on the latest deal saving coupons. Users following Find Coupons For's Facebook page will also be kept up to date when new coupons are added. An alert, or even an article, about a certain store or product will be posted in their newsfeed. The alert will always include the deals being offered as well as what the discount is. Shoppers will never miss a great deal.
Now that summer is coming to a close some shoppers will begin setting their sights on the holidays. In addition to looking for items that may be needed throughout the year, gift giving season is right around the corner. Many will have big ticket items such as electronics and jewelry on their list. FindCouponsFor.com is a great way to find deals that will save big money on those holiday gifts. With today's money struggles everyone is looking for ways to save as much as they can.