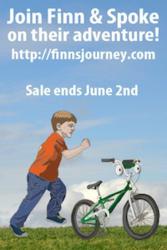 Finn's Journey' will be a fun way for kids to learn, challenge themselves and become more aware of the world around them.
San Antonio, TX (PRWEB) May 11, 2012
Studies show there is a correlation between family travel and success in school and families now have new resources to make travel easier! Orders are now being taken through June 2 for a new children's book called "Finn's Journey" on the grassroots artistic crowdsourcing site KickStarter found at their Kickstarter launch. Children and families will enjoy learning about London through this engaging book. At the same time, they will feel good that they helped give a similar experience to US military child or US Olympic athlete's child. Through the limited time pre-sale you can join the project as an early stage backer and get exclusive access to the creative process.
"We are thrilled to be developing this series of books, Facebook and Twitter feeds, and iPad apps to solve a problem," author Chett Kline explains. "The problem we are focused on is that the increase in globalization and cross-cultural interaction hasn't been met by an equal increase in education allowing children to be prepared to be successful. 'Finn's Journey' will be a fun way for kids to learn, challenge themselves and become more aware of the world around them." Follow Finn's Journey on Facebook.
According to a study done at Clemson University: "Children that traveled with their family scored higher on academic achievement assessment tests than those who did not travel." There are many barriers to travelling as a family and Finn's Journey strives to mitigate these barriers through education and providing resources on their Facebook page.
Co-author Danielle Kline grew up a self-described "military brat" and wouldn't trade it for anything in the world. It was hard on her and her sisters moving to new places through their childhood. Ms. Kline discusses the current state of growing up with military parents: "We know moving is still very difficult on military children even in this era of technology and interconnectivity. Because of that, my husband and I are writing this series of children's books that will help kids learn about the world and new cities they are moving to."
Through the Kickstarter launch found at Kickstarter, ckreate has made an offer to send books and t-shirts to military kids who have PCS'd to England. This makes it easy to support these important causes while furthering artistic creativity for children.
Anyone who feels strongly about helping children learn about the world, Finn's Journey is a great children's book to become a part of. Companies wishing to join in on the excitement are offered a "Corporate Sponsorship" option to get exclusive advertising rights for an entire month.
Future plans of this company include holding workshops at elementary schools to teach students about the world, travel, and writing. Plans include allowing a classroom to have the chance to co-author a book by helping research a city they choose then writing a story about Finn's experience there. Students or teachers interested in this opportunity should contact the authors directly.
Finn's Journey is also holding a "Find Finn" Family Travel Photo Contest. The photo with the most "likes" will win a Best Buy Shopping Spree prize and top photos will be printed in the upcoming book "Finn's Journey in London".
About ckreate LLC
Finn's Journey is a product of ckreate LLC, a youth development services company founded in 2009 that offers consulting, camp programming to child and youth care facilities. Ckreate believes that the overall development of a child can be dramatically enhanced by a proper environment and knowledgeable, caring adults. Ckreate has 30 years of combined experience working with children around the world.