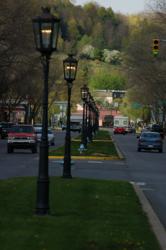 Wellsboro, the County Seat of Tioga County, is home to Pennsylvania's Grand Canyon, a 47-mile long natural wonder.
Wellsboro, PA (PRWEB) March 29, 2012
Fireball Run Adventurally is an interactive adventure series in which teams of 2 to 4 persons solve several clues in order to navigate a predetermined route, locate points of interest and score points. The missions are often epic, motivational, once-in-a-lifetime experiences.
One year is dedicated to produce this 8-day, 15-city, 2,500 mile experience which is an entertainment venue filmed as a motion picture. It's not just a road rally. This year the theme is Northern Exposure, and the race kicks off in Independence, OH, on September 21, 2012, and arrives in Wellsboro, PA, the third destination city on September 24, 2012, with the finish line at Bangor, ME. All the cities in between will be offering a unique experience for the teams involved.
Past teams have included celebrities such as Jeffrey Donovan and Geoff Gordon. Although team members have not been announced yet, participants are sure to be an interesting group of individuals. Registrants must be one of the following: a business owner (any size), C-class executive, person of independence (verifiable net worth exceeding $3.5m, elected or community business leader, celebrity, US military active duty, veteran, or retiree.
Although the adventure race is the fun part of the event, Fireball Run Adventurally is more importantly about the Race to Recover America's Missing Children. Each team represents a missing child from their home region. The mission to be completed during the race is to distribute over 1,000 posters during the 2,500-mile adventure as an awareness campaign to aid in the recovery of the missing child. To date, Fireball Run Adventurally has aided in the recovery effort of 38 missing children.
As destination three on this year's Fireball Run Adventurally Northern Exposure, Tioga County Visitors Bureau looks forward to welcoming the racing teams and fans to Wellsboro! The series of missions will introduce the teams to some of the history of this quaint Victorian town and County Seat of Tioga County, Pennsylvania. For more information about Fireball Run Adventurally, please check out the website. Interested parties can also follow all the action on their website, Twitter or Facebook accounts.
To stay on top of all the Fireball Run Adventurally action in Tioga County, please like our Facebook Page or follow our Twitter.