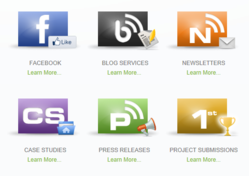 It is rewarding to know that we help drive qualified customer's to our clients via proven techniques.
Hollywood, FL (PRWEB) July 24, 2012
Firefly Creative is the marketing division within One Firefly LLC. The firm was founded in 2007 by Ron Callis Jr., a custom electronics industry veteran, to provide customized and targeted marketing services to Electronic System Contractors located worldwide. The Firefly Creative team is comprised of experienced graphic designers, web developers, copywriters, and public relation professionals who understand how to communicate the core message of the integrated technology industry.
The market for smart home technology is on the rise. According to Strategy Analytics,' 6% of United States homes are now viewed as being "intelligent or smart". Revenues reached 4.9 billion for related products, services, and installation fees in 2011, a jump in growth by 130%. Over the next five years, growth is expected to continue to rise. The mission of Firefly's Creative team is to assist in this growth of the integrated technology industry. As the world of smart homes, businesses, and yachts continue to evolve, Firefly Creative is positioned as a leading resource to communicate the products, projects, and insights of the integrator professionals who craft technology environments world-wide.
Firefly Creative believes these insights will be best deployed by using inbound marketing services. These new services offered by Firefly Creative are based on the concept of earning the attention of prospects, making business' easy to be found, and drawing customers to their website by producing content customers value. Blogs, videos, eBooks, email newsletters, case studies, press releases, SEO, social media, and other forms of content marketing will be developed by Firefly Creative on behalf of their clients to showcase the integrated technology possibilities the industry has to offer.
With the majority of the world online everyday searching for valuable information, these Inbound marketing content services provided by Firefly creative will be a major asset to system integrators. Over the years, most integrators ignored or lacked the time and resources to publicize their projects and services. Now integrators have a seasoned marketing professional team at their fingertips. With the launch of these new services, their will be a wealth of new features and insights to share with a much larger audience which will create more buzz for the specific integrator as well as the entire industry.
Before deploying a full on inbound marketing campaign, its important for integrators to have a clean easy to navigate website to capture the new leads. Fortunately for integrators, Firefly Creative offers semi-custom website packages that are customizable clean and ready to order. These websites feature product pages with over 40 different manufactures, form integration with calls to action, social media integration, and much more. These packages can be ordered with only a few clicks on the Firefly Creative's website. Unlike most website development projects, Firefly Creative offers complete web integration in only 5 days or less! There is even an option to integrate a home automation virtual demonstration using innea web demos.
Logos, brochures, business cards, sales portfolios and even life sized product demo tools are all available by the Firefly Creative team. These services give integrators that professional look and feel when presenting online or in person with a client. They are marketing essentials in communicating. These initial designs create the specific brand for the integrator based on their core services offered, target audience, and philosophies.
From branding to web design to continued content creation, the Firefly Creative team is ready to assist and propel integrators into the future by communicating their philosophies, message, and projects to a larger audience. As a result, more business opportunities and growth will be possible.
About Firefly Creative
Firefly Creative is operated as a division of One Firefly, LLC and is a full service marketing and public relations agency that caters to the custom electronics industry's member contractors and manufacturers. Firefly Creative is based in Hollywood/Fort Lauderdale, Florida and has been operating since 2007.
Our team's dedication and hard work has enabled us to build a strong customer base located through out the world. We pride ourselves on building strong relationships with our customers and always provide a high level of service regardless of the project size. Our strong commitment to technology and innovation has enabled us to adapt to change within the marketplace as well as the changing business needs of our clients.
We are a skilled team comprised of marketing experts, graphic designers, web designers and social media specialists. Our unique approach and dedicated focus to all facets of the custom electronics industry including member companies of CEDIA, Infocomm and CEA, positions us to serve our clients with expert knowledge, quality and outstanding creativity. We enjoy helping our clients generate more leads and build brand awareness.
We operate under the same roof as our two sister divisions, Firefly Design Group and Firefly Programming. We continuously evaluate opportunities where all of our available resources will bring value to our client. We desire to be the leading marketing and PR company in the custom electronics industry by delivering an exceptional product inclusive of a best in class customer service experience.