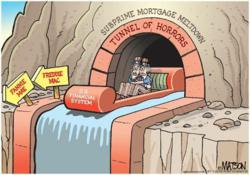 Financial Freedom For Every American!
Long Beach, California (PRWEB) November 15, 2012
Widespread anxiety is setting in as the deadline looms over the American government to address the so-called fiscal cliff end of Bush era tax breaks and other tax savings that have kept the American economy from the brink of collapse since 2008. The $600 billion of automatic tax hikes and spending cuts due at the end of this year — is "simply not going to happen", Sen. Bob Corker told CNBC. On the other hand, Yahoo Finance reported that it's not America's worst problem and even if the cliff was averted, it would only be a matter of time before America's financial problems would come to a head.
1. No More Tax Breaks
So far, California's homeowners have enjoyed a tax break on their cancelled mortgage debts when they short sell their underwater property. However, these tax breaks for homeowners is set to end this new year's eve, unless Congress votes to extend it. If this tax break ends, more homeowners would be forced into bankruptcy to avoid paying income taxes on mortgages where owners walk, says Lakewood, Ca Bankruptcy Attorney, Christine A. Wilton. Why? Christine Wilton says, "Because debts discharged in bankruptcy have no impact on a family's income taxes."
2. Increased Foreclosure Activity
Still ahead, California homeowners can expect slight home value declines in the coming year as inventory increases from more foreclosure activity. Attorney Wilton says that many California homeowners are living on borrowed time and mortgage teaser rates will reset. "Homeowners who have enjoyed interest only payments for the last five to seven years will see a huge jump in their payments when they begin to pay back the principal loan amount," says Attorney Christine Wilton. The good news, if there is any here is that loan modifications continue to be processed for those that qualify and want to stay in their home. Homeowners are encouraged to apply as soon as they know they cannot afford their mortgage payment.
Homeowners looking to walk away from an underwater mortgage they can no longer afford may need to file for bankruptcy to avoid income tax consequences before they seek a walkout option. Christine Wilton says this is especially important if there is a second mortgage or home equity line of credit against the home.
3. Flat Housing Values
Whether the government averts the fiscal cliff and bluffs it's way into 2013, or jumps right off, housing values will be flat next year or decline slightly. Inventory will increase as more foreclosures hit the marketplace and short sales will take place after homeowners exit the bankruptcy process to avoid paying Uncle Sam.
Photo Credit: Matson