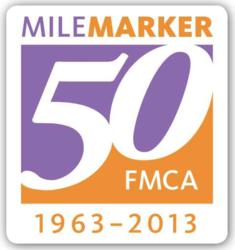 We salute the volunteers who truly made our Indy Reunion a success. We could not have done it without them.
Cincinnati, OH (PRWEB) September 28, 2012
Motorhomes in all sizes, styles, and price ranges, as well as custom bus conversions, rolled into the Indiana State Fairgrounds in Indianapolis for FMCA's 87th Family Reunion & Motorhome Showcase.
The grounds were packed with 2,211 motorhomes, which included 1,849 family coaches, 277 display motorhomes or demo units, and 85 exhibitor live-in coaches. Visitors in towable RVs were welcomed as well.
The event officially got under way on Monday morning, August 27, and participants began enjoying the hallmarks of FMCA Family Reunions — spending time with friends; attending seminars about RV ownership; partaking in craft and exercise sessions; and perusing scores of exhibits. The latter included hundreds of new motorhomes and an untold number of RV products.
Family Motor Coach Association was founded nearly 50 years ago, in July 1963. In anticipation of the association's golden anniversary in 2013 — which will culminate in a grand celebration in Gillette, Wyoming — folks at the Indianapolis event purchased commemorative reprints of the very first issue of Family Motor Coaching magazine and donned T-shirts with the "Mile Marker 50" anniversary logo.
Indianapolis convention-goers also were given the first opportunity to sign up for a special Anniversary Life Membership in FMCA, which will be available through the Gillette event. Finally, mention must be made of a whimsical 50th anniversary mascot, Sheldon the Turtle, who was introduced to an appreciative crowd.
The success of the Indianapolis convention was in no small part the result of the efforts of hundreds of FMCA members who assisted with parking, security, seminars, and many other aspects of the event. FMCA events manager Chris Lusk said, "We salute the volunteers who truly made our Indy Reunion a success. We could not have done it without them."
FMCA members are now looking forward to a grand 50th anniversary bash at the 88th Family Reunion & Motorhome Showcase June 19-22, 2013, in Gillette, Wyoming. Special activities are already being planned as precious memories join with anticipation of the future.
Owners of self-contained RVs or vendors and manufacturers who would like to be part of the extravaganza can visit FMCA.com or call (800) 543-3622 or (513) 474-3622.
ABOUT FAMILY MOTOR COACH ASSOCIATION • Enhancing The Motorhome Lifestyle
Family Motor Coach Association (FMCA) is an international organization for families who own and enjoy the use of self-contained, motorized recreation vehicles known as motorhomes. The association maintains its national headquarters in Cincinnati, Ohio, and currently has nearly 85,000 active member families. FMCA offers its members a number of benefits, including a subscription to its monthly magazine, Family Motor Coaching; trip routing; mail forwarding; and group rates on an emergency roadside assistance program and an emergency medical evacuation plan. Perhaps the most important benefit of FMCA membership is the camaraderie and friendships that develop among people enjoying the common interest of motorhome travel and recreation.
###